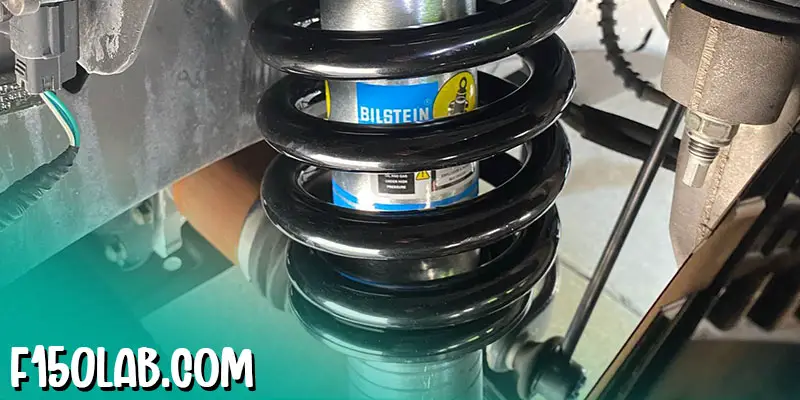 Do you want to experience a better and smoother ride while driving your Ford F150 2WD? You can make that happen by installing one of the best aftermarket shocks for F150 2WD.
And to make the whole process easier for you, I have spent hours researching and finding the best candidates on the market.
So without further ado, let's see the top models.
---
---
10 Best Shocks for F150 2WD – [Top Picks of 2023]
For your convenience, I took all of my findings and put them in a list so that you can take a closer look at each one of them and pick one that best fits your vehicle!
1. Bilstein 5100 Series Shocks – Best for Overall Performance
What I Like and Dislike
Zinc-plated construction.
Vehicles can be lifted without a lift kit.
Freeform height adjustment system.
Multiple snap-ring grooves for better positioning.
Easy installation process.
Doesn't come with coils.
Mediocre heat distribution.
The most important aspect of a shock absorber should be its stringent durability.
If you are driving a vehicle like the Ford F150, you know how much load and stress it endures when driving. Without durable shocks, you can easily ruin the bottom of the truck and scrape it.
If you want to avoid damaging your truck, you can check out the 5100 series shocks by Bilstein. These shocks are much more durable than anything you will ever get.
However, durability isn't the only plus point about this shock absorber as it also doesn't compromise on quality.
Zinc is an exceptionally durable material since it does not fall victim to oxide rust and corrosion. It is the perfect material for a shock absorber like this. 
With this, you could drive through muddy terrain or rough weather without having to worry about water seeping into the shock.
After installing these shocks, your truck will get an increase in height. This means that you get to install larger tires or a better transmission in your truck without needing a lift kit.
You'll find multiple snap-ring grooves that allow you to change the spring seat to different heights.
Depending on how you adjust it, you can get more room for additional modifications without cutting anything out.
---
2. Rancho QuickLift – Best for Multiple Height Adjustment
What I Like and Dislike
Removes front tire raking.
Nine levels of height adjustment.
2.5 inches of lift without external support.
Eliminates fade from the engine.
Provides maximum damping performance.
Poor build quality of the studs.
Coil-over shocks are much less likely to deteriorate than stock shock absorbers since they provide stiffness to the handling of a vehicle. The stiffness eliminates any factory rake, which allows for a more aggressive stance in the suspension system.
A good starter coil-over shock that does not compromise durability is the QuickLift shock by Rancho. After a lot of research, I can wholeheartedly attest to its reliability and handling of the wheels.
So, you can surmise the quality of these coil-overs by how helpful they are in protecting your F150 2WD against all odds. By removing the factory rake, the shock levels your vehicle and provides an even weight distribution along with the suspension.
You are also getting extra room off the ground, meaning you can go wild in rough terrains without worrying about rocks or mud ruining the bottom surface of your truck.
With this shock, you are getting clearance up to two and a half inches without any lift kits!
The most significant improvement you'll see after installing them, is the decrease in the fade. Meaning, it minimizes the air to oil mixture in the engine to provide maximal damping performance.
---
3. Monroe Shocks & Struts Shock Absorber – Best for Load Adjustment
What I Like and Dislike
High-temperature resistant piston.
Automatically adjusting valving system.
Unique fluid seal for excess gas and friction removal.
Long-lasting nitrocarburized rod.
Actively eliminates friction between the chambers.
No body roll aversion.
Spongy feeling in wheels.
If you want to avoid sagging your F150 2WD, you can check out the load adjusting shocks by Monroe. These shocks can adjust themselves according to the amount of force they are transferring to the suspension system.
In terms of features, this shock comes loaded with a durable spring mechanism that adjusts itself to the terrain and a fluid seal that lubricates itself to reduce excess friction.
The fluid seal can help decrease the amount of premature wear that the shock would endure with the nitrocarburized rod. You will be hard-pressed to find another shock absorber that is more long-lasting than this one.
Inside the chamber, there is a PTFE-branded piston. With the PTFE material, the friction between the chamber and the piston is greatly reduced.
I found that the piston can also handle extremely high temperatures without melting.
Since the shock adjusts itself according to the terrain, you won't have to bother with increasing or decreasing the height of your vehicle to match certain road conditions.
---
4. Fox 2.0 Performance Smooth Body Shock – Best for Smoother Ride
What I Like and Dislike
Racing pistons for improved road conditions.
Aluminum chamber.
Better heat dissipation.
Consistent absorption performance.
Rebuildable design for modular purposes.
Doesn't come with springs.
No adjustable height options.
One of the most ignored aspects of shock absorbers is heat dissipation. Without proper heat distribution, the piston cannot move up and down the chamber freely.
The friction caused by the movement can damage the piston if the heat is not dissipated from the fluid.
If you are convinced, then you can take a look at the performance series shocks by Fox. In terms of technology, it isn't anything new, but the way they implemented it in these shocks is phenomenal.
Let me explain the technical specs to you as those can be a bit confusing. The manufacturers specifically developed the racing pistons to improve the on and off-road conditions significantly.
Meaning, you would get more comfort and stability in all kinds of road conditions.
With the 2-inch aluminum chamber, the piston can dissipate the heat faster and more efficiently without melting or damaging the chamber in any way.
Since rough road conditions can greatly increase the amount of heat in your F150 2WD, the aluminum construction can actively reduce the chance of uneven heat distribution.
To improve consistency, you're getting an internal floating piston that separates the nitrogen charge from the suspension fluid. 
This essentially means that there is no chance of any fluid mixing together with the nitrogen, which would cause the shock to become mushy otherwise.
---
5. Icon Vehicle Dynamics 3.0 Coilover Kit – Best for Extended Durability
What I Like and Dislike
Extended stability and performance.
Aircraft-grade aluminum chamber.
Real internal floating piston.
CAD plating with corrosion resistance.
FK Rod bearings for durable longevity.
Easy installation process.
Relatively heavier than most shocks.
Not suitable for RWD vehicles.
One such shock absorber that you could call premium is the 3.0 Coilover Kit by Icon. These shocks are almost a masterclass in terms of design and consistent performance output.
As you can see, these shocks aren't a joke when it comes to high performance and utmost stability.
The piston chamber has aircraft-grade aluminum construction, meaning you could drive your F150 truck through a storm and come out with unscathed shocks.
You also get CAD plating that is resistant to all kinds of corroding materials like oxide rust or water.
Since the coilover has a 7/8 inch shaft, the chamber can eliminate any excess friction generated between the piston and fluid seal.
With the adjustable coil-over spring, your truck will get a lift of up to three inches, which is a lot when you consider that other kits do not go above 2.5 inches!
---
6. Rough Country N3 Shocks – Best Value for the Money
What I Like and Dislike
Great value for money.
Military-grade performance fluid.
Sophisticated valving system.
Fast cooling shock chamber.
Spring-loaded piston seal.
36 kN tensile strength.
No coilovers included.
No height adjustment.
Out of all the shocks I mentioned here, I found only one to have performance fluid that outclassed everything in the list.
Rough Country's N3 shocks have a unique type of performance fluid that can withstand up to negative 50 degrees of freezing cold.
Regular shocks have fluid that can barely absorb any heat from the piston, but military-grade fluids are a different story entirely. They can dissipate heat better than most shocks you will find on the market.
Since it can withstand negative 50 degrees Celsius, you won't have to deal with the problem of frozen shocks.
With the 10-stage valving design, these shocks can reduce the impact of sudden vibrations and bumps without causing any harm. 
As for the piston, you get a chrome-hardened rod with a spring-loaded seal system, meaning the shock will smoothly transfer the weight from the wheels to the suspension system.
---
7. Detroit Axle Coil Spring Shocks – Best for Twelfth Generation Trucks
What I Like and Dislike
Electrophoretically coated gas chamber.
Chromium-plated pistons for high absorption.
OEM design for versatile compatibility.
Metallic coil springs with dust boots.
High spring seats for ample ground clearance.
Average heat dissipation.
No installation kits.
If you want a pair of shocks that won't get damaged in the rain, then you should definitely try out the strut shock by Detroit Axle. In terms of terrain protection, these are some of the best shock absorbers you will ever use. 
As you can see, these shocks do the most in providing protection against water and corrosion damage. There are two types of coating here that give you the extra edge when driving in rough road conditions.
With the electrophoretic coating, the gas chamber can go a long way without accumulating any rust or dirt stains.
Since it is a uniform coating without any porosity, you won't have to worry about any foreign material entering the chamber and ruining it in the process.
As with the chromium plating on the pistons, you get less friction, which increases the piston's absorption ability.
You can drive your Ford F150 2WD through all kinds of terrains, and I can tell you that it is a reliable shock through and through.
---
8. Moog Strut and Coil Spring Assembly – Best for Eleventh Generation Trucks
What I Like and Dislike
Piston with triple seal design.
Accurate valving design.
Low-viscosity performance fluid.
Polished piston band.
Resistant to all kinds of temperature.
No room for height adjustment.
As I explained before, durability is critical when it comes to shock absorbers since they handle most of the weight of the impact.
Without durable materials in the shock, it can easily break or leak fluid, causing your vehicle to suffer significant damage.
For the eleventh generation F150, these shocks from MOOG are a great choice since they offer ample durability for your F150 2WD.
These shocks are a perfect fit as they can work in tandem with stock shock absorbers to improve your riding experience in the truck.
In terms of pistons, the shock has a piston seal with a triple seal design. Meaning, the outer wipe seal cleans the piston and prevents any contaminants from the chamber.
The primary seal optimizes the performance of the piston, while the inner buffer seal absorbs any extreme fluid spikes.
As for the piston rod, it has a hard-chrome finish that protects it from any water or oxide rust damage. The piston band reduces any excess noise, leading to a smooth and quiet riding experience.
The low-viscosity fluid can withstand all kinds of temperatures, keeping the shock's performance consistent in all states.
---
9. DTA Complete Struts – Best Alternative for Eleventh Generation Trucks
What I Like and Dislike
Piston rod with chrome plating.
Teflon-branded piston seal for long-lasting effectiveness.
SV3 hydraulic fluid for maximum smoothness.
Easy strut installation process.
Dust boots for dampening noises.
Height cannot be manually adjusted.
If you wanted a shock absorber with some of the best piston-fluid combos, I would direct your attention to the strut shocks by Drive Tech America.
Now, the features and design of these shocks are not new or innovative by any means, but they get the job done as an excellent alternative to the Moog shocks.
In terms of the piston, you're getting a chrome-plated rod that has a Teflon branded piston seal.
If you are worried about piston rusting in rough road conditions like rain or mud, you can rest assured as chrome plating provides apt protection against oxidizing agents that cause rust.
As for the hydraulic fluid, it is a unique fluid that is synthetic in origin, meaning it can withstand a wide range of temperatures and still ensure proper movement of the piston rod.
---
How to Choose the Best Aftermarket Shocks for F150 2WD?
There are many aspects of a shock absorber that you must inspect before you choose one for your 2WD or 4×4 vehicle.
Fortunate for you, I made a neat buying guide that details all the things you need to know to make an educated purchase!
1. Make Sure They Perform Well
Shock absorbers permanently change the performance of your vehicle as they tweak with the ability to absorb impacts.
Therefore, it is essential that you check all of the operational functionalities of a shock absorber before you purchase one.
2. They Should Smoothen Your Ride
Since shocks absorb all of the negative aspects like bumps and vibrations of rough road conditions, you need to make sure if the shock you're purchasing dampens the force of these aspects properly.
With a good shock, you can enjoy a smooth riding experience effortlessly.
3. They Should Offer Better Control
Shock absorbers can change how you control your vehicle when driving. Check the type of shock you are getting, as some make your vehicle stiff while others loosen it up for a more laid-back experience.
4. Consider Load Control
When you are driving in terrible road conditions, the shock absorbers try to dampen the vibrations so your truck doesn't sustain any major damages.
Getting a shock absorber with good performance fluid and piston seal can help significantly in controlling the load.
5. Prioritize the Durability
This is an essential aspect for shock absorbers as they need to support your vehicle in all conditions without breaking in the process. Make sure that the shock you are getting is constructed with solid sprint seats and materials.
6. Consider the Ease of Installation
Shocks aren't anything complex to install since they operate on a bolt-on installation process, but some are way too complicated than others.
Check if it has a bolt-on installation system.
7. Consider the Lift Height
Shock absorbers can increase the height of your vehicle without needing lift kits, so you should check this factor also!
---
Frequently Asked Questions
Are Struts and Shocks the Same Thing?
Apart from working the same, struts and shocks are entirely different parts.
Are Aftermarket Shocks Better than Stock Ones?
Due to compatibility and reliability, aftermarket shocks are better than stock ones.
Do Aftermarket Shocks Make a Difference?
Aftermarket shocks definitely make a difference as they greatly increase the shock absorption capabilities of your vehicle.
When to Replace Ford F150 Shocks?
You can replace F150 shocks depending on the purpose since different purposed shocks have different requirements. For example, you can replace coil-overs after 20 thousand miles since the coils usually last that long.
How Often to Replace Shocks on Ford F150?
Normally, it is advised to change shocks every 20 thousand miles.
How Long Do Ford F150 Shocks Last?
F150 stock shock absorbers normally last up to 30-40 thousand miles.
Do I Need Special Shocks for a Lifted Truck?
No, you do not need special shocks for a lifted truck.
Which Shocks Should I Replace First?
You can replace the shocks for any sides you want as long as you do it in pairs.
Should I Replace Front and Rear Shocks at the Same Time?
If you can, you absolutely should replace front and rear shocks at the same time.
---
Before You Go …
I wholeheartedly suggest you the 5100 series shocks by Bilstein, as they are the best aftermarket shocks for F150 2WD in terms of durability and overall performance boost.
They effectively make use of their zinc-plated construction and freeform height adjustment system to provide you with ample ground clearance while boasting superior robustness.