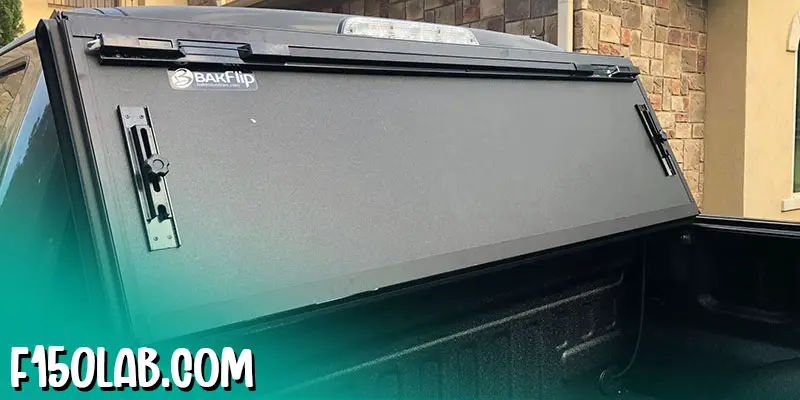 Ford F150 owners have a lot of options when it comes to hard folding tonneau covers.
But with so many brands and models on the market, it can be tough to decide which one is right for you.
Based on my comprehensive research and findings, here are some of the best hard folding tonneau covers for F150 trucks you can rely on.
---
7 Best Hard Folding Tonneau Covers for F150
To help you make an informed choice, I have researched all these products and detailed what I like and dislike most about each of the models.
1. Best Overall – BAK BAKFlip MX4
What I Like and Dislike
Material is lightweight but ranks high in durability.
Rubber seals ensure a secure fit and the safety of your belongings.
Resistant to stains, scratches, and UV damages.
Can be removed without the use of any other tools.
Quite easy to install.
Does not provide full protection from water.
The first model on my top list is the MX4 tonneau cover from BAK Industries.
This model is known as the best overall hard bed cover among truck owners for its sleek design, matte black finishing, and ease of use through various effective components.
Made from a durable and weatherproof material, this cover will really help to keep your truckload protected during any time of the year in any weather.
It also protects from marks and fingerprints that can be tough to get rid of at times.
One of the things that I really like about this product is how easy it is to operate. Once rolled away, you could easily get 100% access to the bed. You can also keep it open at the side with the help of latches. 
You don't need to use any tools to clamp it on or remove it. Even the installation can be done with minimal tools, so of course, this makes it easy to set up and operate.
---
2. Best Overall (Alternative) – BAK BAKFlip G2
What I Like and Dislike
Can be handled from both sides of the truck, which offer convenience
Helps you close your tailgate regardless of whether the cover is open or folded
Provides access to the maximum truck bed
Installation is made easy with the help of latching panels
Does not barricade the third brake light
Quick release cables can get out of shape quite quickly
Now we have another hard folding cover from BAK Industries, which is just as impressive, thanks to its super cool features and focus on users' convenience.
I found this model one of the easiest to use among all I mentioned.
The best thing about this model is that it is easy to roll over and fold despite being a hardcover. Besides, you can fold it over from any side of the truck instead of starting at the rear side as other covers require.
In terms of appearance, the glossy finish greatly appeals to me. On top of that, the robust aluminum panels holding the cover make the whole model look stylish and sleek.
You don't have to worry about the security of your truckload while using this product, as it has a dual security system. The aluminum panels and latching system ensure that you have nothing to worry about once you put the cover on.
---
3. Best Value – Undercover Flex
What I Like and Dislike
Built-in prop rods help secure open covers while driving.
Tailgate can be shut without having to lift the cover up.
Roll-up covers are soft and can be easily moved.
Offers protection from rain and water.
No drills required for the installation process.
Not completely airtight.
Are you tired of keeping your tonneau cover in either an open or a closed position and looking for something that is more flexible? Then look no further, as this cover from Undercover is just the perfect product for you!
You can secure the cover into one of these three positions while driving – folded up, closed, or lying flat.
The lying flat feature gives you a 90-degree access angle in order to ensure your comfort. The open and folded feature is like the other covers.
This model is best for use in regions with water or wet climates due to its various drain tubes and rubber seals. Besides, the low-profile design is really a good fit for the F150 truck.
I do not like to have to take the help of too many tools while setting something up, so it'a a relief to me that I can install this cover without having to drill anything.
In addition, you do not need to latch the panels manually every time you fold up the cover.
---
4. Best for Low-Budget – DNA Motoring
What I Like and Dislike
Equipped with organized storage to help keep your belongings at one place.
Offers protection from all sorts of weather conditions well.
Truck aerodynamics can be improved with speed.
Helps conserve more gas.
Has an extra coating to protect against scratches and dents.
Instruction manual is quite vague.
Up 4th, I have a budget-friendly tri-fold hard cover for you form DNA Motoring.
This model is great in providing all the features you expect from a tonneau cover and helping to save gas for your vehicle.
Along with saving gas, thanks to its lightweight build of less than 70 lbs, this model helps to improve the aerodynamics of your truck. This is why I found it great to use while traveling long miles.
Making sure that my truckload is safe from harsh weather conditions is extremely important to me, and this model ensured that.
It is made with materials of such high quality that help offer protection from harsh sunlight, snow, rain, and such.
It is also very easy to keep this model clean, as it has an extra coating that keeps the product free from any scratches and marks.
As such, you can keep using this for long periods without any need for maintenance.
---
5. Best Under $800 – OEDRO Tonneau Cover
What I Like and Dislike
LED light can be used to signal different modes to different vehicles.
Can bear loads of up to 350 lbs.
Offers superior UV and water protection.
Tailgate locked helps keep the whole truck sealed.
Cover ensures a perfect fit.
The installation process requires the screws to be a bit lose at first, a trick not known by most.
Looking for a model that goes above and beyond the regular features and just provides some oomph factors for your money? Then this product from OEDRO with its LED light strip is definitely worth checking out.
Riding a truck on dark nights on less than favorable roads is not always a great experience. This is why the LED light strips at the rear end of this cover can help make things better.
You can alter this to signal which way you are going to caution other drivers on the roads and prevent any collision.
Besides saving you from a potential accident, this product also saves your goods from potential rainwater leaks, thanks to the waterproof strips set at the front and rear.
It also prevents damage from UV.
---
6. Best Under $700 – Gator EFX
What I Like and Dislike
Panels are resistant to scratches and UV exposure.
Not prone to damage from rain, snow, and dust.
Can be installed without additional tools or drills.
Provides easy bed access when partially or fully opened.
Can hold up to 300 pounds of load.
There have been complaints of the rubber getting damaged quite fast.
For our 6th model, I would like to show you a super-strong model from Gator which can hold up to 300 pounds while also ranking high on durability.
Most of its durability can be attributed to built-in aircraft-grade aluminum panels on the cover.
Although the model is quite heavy and strong, that does not deter it from looking as stylish as ever.
With a black powder coat finishing, this looks amazing against my truck, and I definitely got my old ride some compliments!
I am also super happy about the fact that this product does not just look good, but it also provides noteworthy protection from problematic elements like rain, snow, and dust.
The integrated water management system on the truck helps a great lot with this.
With such a heavy model, I expected the installation to be a burdensome chore. But I was pleasantly surprised!
You don't need any tools or any drilling to get the model set up, and instead you can get it all done by following the manual instructions.
---
7. Best Under $600 – Tonno Pro
What I Like and Dislike
Lightweight build that offers durability.
Installation is quite easy as it is preassembled.
No drilling or tools are required for set up.
Has a very affordable price range.
Powder-coated frame helps keep the bed dry.
Needs to be removed fully in order to get access to the bed.
Covers 1/3rd of the truck when it is in a folded position.
Most of the models I have researched have some really cool features.
But if you want to slow down on the features just a little and look for something simple in a more affordable price range, this tonneau cover is the ultimate choice.
With this model, you definitely get more than what you bargained for.
To start off, the model is incredibly lightweight at only 70 lbs. However, it can hold a capacity of up to 350 lbs, much to my amazement.
An EZ clamping system on the model relieved me from my biggest nightmare – installation.
This system ensures you don't have to use any tools or drill any holes to set it up.
The frame of the model is powder-coated and features a Q-seal gasket and front flaps that help keep the bed dry.
Once you lock the tailgate, you can keep your bed and belongings protected from all sorts of weather and dust.
---
Best Hard Folding Tonneau Cover for F150 – Buying Guide!
In order to find the best hard cover for your truck, you definitely need to take some factors in consideration.
I have made a list of the most important ones to help you get started.
1. Fitment
Different tonneau covers are designed keeping the size of different models of the truck in mind.
If you buy one that does not fit your vehicle, then all your money will go to waste, no matter how amazing the product is.
Therefore, make sure to buy a model that is compatible with your truck bed size.
2. Durability
The hard tonneau cover you purchase needs to be durable so that it can provide you with the same service for years on end.
Besides, durable models have better load capacity, making this accessory even more useful.
Look for tonneau covers that are made from fiberglass in order to ensure absolute strength. These models are usually extremely resilient, and helps to keep your truck cover in new condition always.
3. Designa and Style
Design should be a premium consideration while purchasing a tonneau cover.
These products are, by definition, quite bulky, so look for a model that balances out the bulk with some style.
Out favorites are tonneau covers with sleek black powdered finishing. These also help to provide protection from harsh weather conditions and can sometimes resists scratches and marks.
4. Security
If your main motive behind purchasing a tonneau cover is to transport valuable material in your truck, then you need to consider how much security it can provide. To do this, look for models that come with auto lock systems.
The benefit of these advanced lock systems is that even if you forget to lock the covers, they will do that themselves when you close the cover, thus helping to prevent any unwanted thievery.
Many models have unique systems for this purpose
5. Ease of Installation
Hard tonneau covers are usually quite large, so you should look for something that is easy to install. Otherwise, setting the whole product up can prove to be a very tiresome task. 
Look for models that have a plug-and-play system. These products usually do not need any sort of additional tools and can be set up without having to drill anything down.
Many models come with clearly written out manuals, so look for those too.
6. Ease of Maintenance
You do not want to spend a lot of money on a tonneau cover only to have it completely worn out after a few uses. For this reason, look for models that are easy to maintain.
There are many products in the market that are great at withstanding extreme weather conditions like rain and snow.
Sometimes they also include protection from marks, scratches, and UV exposure. These models should be a clear choice, since they last long and reduce the need for frequent maintenance.
8. Price
The price you want to pay for a product should come down to your own consideration.
However, set up a budget before you start window-shopping. This way, you will have a fixed range and can search for your desired features within that.
A lot of models are now quite affordably priced, without skipping on any important features. Keep your eyes open for those kinds of products.
---
Before You Go …
In terms of features and security among the products I researched, the BAK BAKFlip MX4 is the best hard folding tonneau cover for F150 trucks on the market.
I love how this cover provides simplistic features like full bed access and rubber seals without being too hard on the pocket. The beautiful black finishing is also a plus point.