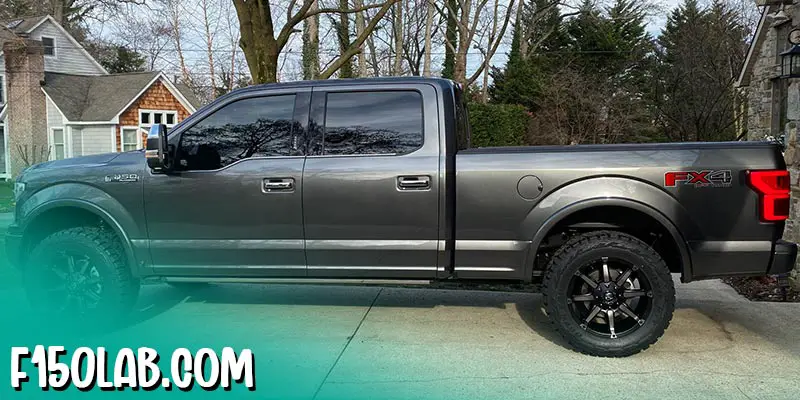 If you're looking for the best leveling kits for F150 that will provide you with excellent ground clearance and allow large tires to be fitted, you're in the right place.
In this article, you'll get a list of the best 2 to 2.5 inches leveling kits on the market for a better and safer ride from now on.
So without further ado, let's get right into it.
---
7 Best Leveling Kits for F150 – (2023's Picks)
Here go my top 10 picks for the leveling kits for Ford F150.
1. Best Overall – MotoFab 2.5-inch Kit
What I Like and Dislike
It doesn't need coil disassembly.
No creaking noises.
Easy installation.
Good quality.
Easy to fit the struts.
Little pricey compared to the other on the market.
If you are looking for a leveling kit that doesn't require a strut or coil disassembly, then this product is what you should go for. You will be able to install it easily within one hour or less.
Using this kit, you will be able to stay worry-free since it helps to avoid creaking noise issues and will help to prevent wear and tear. It is very easy to fit the struts and is a good quality product built with billet aluminum.
It is black powder-coated to match your factory suspension, giving it a great look. This kit will help you raise the front of your truck by 2.5 inches precisely.
Upon installation, your truck will look great and will also be able to make sharper turns, unlike before.
---
2. Best Overall (Alternative) – Yitamotor 2.5-inch Kit
What I Like and Dislike
Diminishes factory rake.
Additional fender clearance.
Good for large tires.
Comes with necessary tools for installation.
It comes with pre-installed bolts.
Washers are small and thin.
With this Yitamotor kit, you don't have to go through the hassle of purchasing installation tools separately and can save up on some cash.
It is because this item comes with all the necessary tools that are needed for the installation. Along with that, you will also get pre-installed bolts with the product. It offers to raise the front of your truck by 2.5 inches.
This leveling kit comes with a kit thickness and lift-height ratio of 1:1, thus giving the truck a great outlook.
Using this, you will achieve an additional fender clearance. It also helps eliminate the factory rake, thus making the front and the rear perfectly leveled.
Not only does it give your vehicle an aggressive look, but you will also be able to fit in large tires easily. You are getting light yet solid spacers compared to those made up of steel.
---
3. Best Durable – ReadyLift 2.25-inch Kit
What I Like and Dislike
Constructed with high-quality aluminum.
Easy to install.
Provides perfect lift.
Helps to achieve better turns.
No noises produced.
Not budget-friendly.
Being a beginner at working with trucks can sometimes be daunting. If you aim to install a leveling kit on your own, then do not worry. All you have to do is get a leveling kit that is easy to install.
It doesn't matter if you are an amateur or have less experience working with cars; this incredible kit is very easy to install. Hence consider your worries regarding the issue to be gone.
It is a great kit that is built from high-quality aluminum. Thus you can rest assured that your truck will get very strong and reliable spacers. They will be at your service longer than you can imagine.
The suspension components won't make creaking noises after the vehicle has already driven a few rides. Even in the long run, you will be able to achieve noise-free rides.
Using this kit, you will achieve better turns and smoother rides even when you drive faster than usual.
---
4. Best for Versatility – AKM 2.5-inch Kit
What I Like and Dislike
No strut preloading required.
Corrosion-resistant.
Fit larger rims with ease.
It helps to preserve full articulation.
Long-lasting.
Spacer thickness is less than 2.5 inches.
This AKM kit has the highest user ratings and has been in high demand due to the notable feature it offers altogether.
This front kit is excellent for tires that measure 35 by 12.50 inches in size. You will be able to fit larger rims with ease.
It is built from forged aircraft-grade aluminum, which has stronger compressive resistance than steel. Hence, you can rest assured that it is reliable and durable.
Besides that, it is also powder-coated and resistant to corrosion. Hence you don't have to worry about getting rid of the rust or face issues that might occur if the parts were to be corroded.
This product is more convenient because it doesn't require strut preloading or doesn't need any factory parts to be modified. You can easily fit it and get the installation done in a matter of time.
After getting it fitted in your truck, you will still be able to preserve the full articulation of the vehicle's front suspension.
---
5. Best for Optimum Performance – Supreme Suspensions 2.5-inch Kit
What I Like and Dislike
Doesn't require special tools to install.
Allows large custom rims.
Increases ground clearance.
Improves the look of the vehicles.
It comes with installation instructions.
Not suitable for Platinum trim.
This Supreme kit is perfect for those looking for a kit that comes with an instruction manual. It will help by guiding you through the installation process.
If you purchase this kit, you won't need to buy any special tools separately as it doesn't require any for the installation process. Using this, you will be able to get custom rims since it allows larger ones.
Besides that, you will be able to improve your truck's look and get a significant uplift of 2.5 inches at the front.
The product ensures an easy bolt-on installation process that will take 1 to 2 hours to complete the whole process.
Furthermore, it allows you to achieve greater ground clearance as well.
---
6. Best Value for the Money – MZS 2.5-inch Kit
What I Like and Dislike
Good for big wheels.
It gives additional fender clearance.
Eliminates vehicle rake.
Original values and factory cutting.
No new shocks needed.
It might not be budget-friendly.
Have you been looking for a leveling kit to help improve your truck's stance? I have the right product for you. This kit offers an additional fender clearance and allows you to drive on harsh roads easily.
Using this kit, you can raise your truck by a true 2.5 inches in height. It has also been well-known among users due to its solid quality, original values, and factory cutting.
The item also has an incredible aluminum construction with exceptionally cut threaded mount holes. If your truck has large wheels, you should aim to get this. It will also help you to eliminate the factory rake.
Another beneficial aspect of this product is that you won't need any new shocks for your vehicle. You will be able to enjoy smoother rides without it.
Lastly, you can follow the instruction manual the kit comes with if you face problems while installing it yourself. And the installation doesn't require any special tools.
---
7. Best for 2-inch Lift – Rough Country
What I Like and Dislike
Durable yet affordable kit.
Offers smooth rides.
Easy home installation process.
It helps to avoid off-road obstacles.
Might make noises if driven through harsh roads.
If you are looking for a good leveling kit but within a budget, worry no more. I present you with a remarkable product that is popular among truck owners and a great, affordable kit.
Besides being budget-friendly, this item will ensure perfect performance for your F150. It will help increase your vehicle's ground clearance and assure you can easily overcome on and off-road obstacles.
Using this, you can level the front of your vehicles with the rear and maintain smooth rides. Furthermore, durability should be your last concern since it will be at your service for a long time.
Using this easy home installation kit, you will be able to level the truck perfectly.
This kit allows you to fit 34 inches tires under the F150 easily. You can't go wrong with this kit.
---
Best Leveling Kits for F150 – Buying Guide!
To make a purchase that will be worth your investment, make sure you look into these vital points.
1. Material
Leveling kits usually come in three materials: steel, aluminum, and polyurethane.
Although aluminum and polyurethane kits are excellent at getting the work done, high-quality steel kits are more popular amongst users.
And they're more durable and better for heavier vehicles.
2. Durability
The lifespan of a leveling kit widely depends on its use. Adding higher pressure on your suspension components and increasing stress can cause your leveling kit to wear out much faster.
Ones of good quality steel tend to be more durable than the rest. The heavier the vehicle and the worse the road conditions, it is likely that you might have to make changes to your kit to experience smoother and safer rides.
Furthermore, you might also start hearing noises when it is time for you to change the kit. These kits can last for years but largely depends on the use too.
3. Size
The size you should go for depends on your vehicle, the size of your tire, and how much lift you want.
If you aim to level your vehicle's body, you should get the kits that provide 1 inch or more.
On the other hand, aim to get 2-2.5 inches kits if you want a body lift and want to fit larger tires.
4. Ease of Installation
Once you get the right-sized leveling kit, it's time for the installation.
If you have a good amount of experience practically working with cars or have knowledge of these, installing the kit on your own will be effortless.
However, if you are a beginner, don't know much about car work, or have enough knowledge about leveling kits, it is better to go to a professional to get the job done.
It might cost you some money, but it is better not to take any risk on your own if you are an amateur. 
5. Ride Quality
If you get higher than 2.5 inches, you might see changes in your ride quality; otherwise, it won't make much difference.
However, you might lose some down travel because, with most kits, the ride tends to get harsher as you start hitting the bump stops.
It depends on the road conditions too.
6. Price
Leveling kits are much cheaper than lifting kits. You will find them at a great price range, and it is also known as a poor man's solution to lifting heavy vehicles.
You can consider these if you are on a budget. These are worth the price and will provide you with outstanding service for a long time.
---
Before You Go …
If you are looking for the best leveling kit for F150, then you can go for the ReadyLift 2.25-inch Kit, which is highly durable and eliminates the front rake.
It will perfectly fit your vehicle and provide you with an excellent lift to increase the ground clearance.