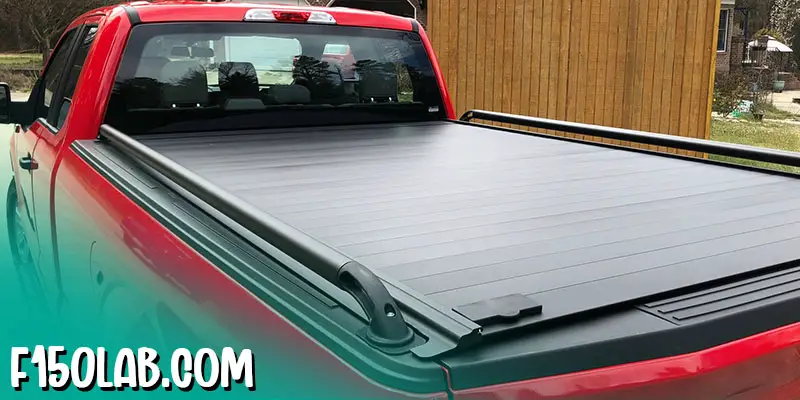 If you're looking for the best retractable tonneau cover for F150, you've come to the right place.
In this article, I'll give you a rundown of the most waterproof retractable bed covers available on the market, as well as some actionable tips on choosing the right one for your needs.
So without further ado, let's get right into it.
---
6 Best Retractable Tonneau Covers for F150 – [Top Picks]
I have spent many hours researching, and finding the best covers. Without further ado, let's get into it.
1. Best Overall – RetraxPro MX
What I Like and Dislike
Adjustable locking feature is very helpful for keeping cargo.
Extremely sturdy and durable – enough to last a lifetime.
Excellent waterproof performance.
Easy and straightforward installation – no fuss in alignment.
Sliding mechanism feels smooth and easy to use.
Provides great security to anything you keep in the bed.
Minimal water may get in during heavy rainfalls.
The first product I have chosen to talk about is quite a popular one – the Retrax PRO MX. It provides excellent adjustability and security features that left me extremely satisfied.
This retractable cover mixes an extremely durable aluminum body with a very resilient matte surface. The body is very durable, providing excellent security to the cargo you keep inside.
Moreover, this item is adjustable. This means you can adjust the cover to be in any height you prefer, based on the type of items you have on the bed. This adds a layer of versatility anyone would enjoy.
I have found that besides looking elegant, the matte finish also provides superior scratch resistance.
It also works against the harmful UV rays of the sun, protecting your truck bed. Lastly, it keeps the color from fading.
Did I mention that it can also hold up to 500 pounds of evenly distributed weight? And, I make use of this feature frequently.
All things considered, this is easily the best retractable tonneau cover I have come across.
---
2. Best Remote-Powered – PowertraxONE MX
What I Like and Dislike
Polycarbonate material can withstand extreme temperatures well.
Comes with a built-in cargo light with provides easy access.
Remote control operation makes manual labor unnecessary.
Secure clamping provides a great seal against the weather.
Canister takes up a bit of space near the end of the truck bed.
Many people prefer having electric tonneau covers because it makes using the easiest. If you are looking for an electric variety, this is the best option I have found after much research.
This truck bed cover uses a remote to operate. So, you can open and close it with the touch of a button. Like the previous cover, this can be adjusted to any height inside the bed, providing adjustability and versatility.
It has a built-in LED light inside, which turns off automatically when you shut off the cover.
I have found this quite handy during the night because I did not need to fumble around in the dark or use an external source of light.
This cover also provides a better seal from water compared to the previous one. The polycarbonate body is another thing I appreciated.
It comes in one single sheet, which makes maintenance very easy.
---
3. Best Smallest Canister – RetraxONE MX
What I Like and Dislike
Polycarbonate material ensures impact resistance as well as UV protection.
One-piece body for easy maintenance and better coverage.
Compact (smallest) canister lies hidden with the side rails, providing room.
Spiral mechanism prevents the body from scratching itself.
Roller systems eliminate the requirement for snaps, pull straps, or springs, adding convenience.
May need to replace the nylon screws.
RetraxONE MX is similar to my most favorite choice. So, it should already be apparent how great this item is.
This retractable cover is made with one single sheet of polycarbonate. It has been made without any joints, hinges, springs, or other small moving mechanisms.
Such designing eliminates the possibility of these moving mechanisms (hinges, joints) wearing out, trapping dust, or freezing. This makes maintenance extremely easy.
The polycarbonate sheet is reinforced with aluminum for better durability. Another unique feature is the spiral track mechanism. This prevents the cover from coming into contact with itself.
Such prevention protects the body from scratching itself with regular use. Very smart, right?
---
4. Best Value – Gator Recoil
What I Like and Dislike
Low profile build complements the outlook of your Ford F150.
Quick installation within 30 minutes thanks to the clamps.
Slim profile canister does not take up much space.
Textured finish provides protection from corrosion and scratches.
Extremely affordable price.
Seal does not hold up well in extremely high temperatures.
Retractable truck bed covers can get pretty expensive. But that does not mean you must spend a couple of thousand bucks for one if you don't want to when products like this Gator bed cover exist!
This cover has a low-profile design that blends well with the Ford F150, making it look stylish. It does not provide any distraction to the truck's style, rather complements it.
The finish on this cover is textured powder-coated matte black. Aside from looking nice, this matte texture helps prevent corrosion and scratches from forming on the surface.
So, it will continue looking nice for an extended period.
A common complaint people have with retractable truck bed covers is that sometimes the canister takes up too much space inside the bed.
That will not be the case with this one, as its canister has a slim profile.
While the clamp-style installation saves a lot of time and effort, it does not provide the most secure mounting. That being said, for the price, it performs better than you would expect.
It takes 30 minutes only to install for an advanced user. But it may take some more time for beginners.
---
5. Best for $1000 – Pace Edwards Jackrabbit
What I Like and Dislike
Instructions are well written and easy to follow.
Custom manufacturing ensures the best possible fit.
Slides easily and smoothly – no tugging.
One of the best looking tonneau truck bed covers.
No drilling is needed for installation.
Does not come with a lock.
Pace Edwards is a name sure to pop up whenever the topic of retractable covers is discussed. This brand is known for making really great retractable truck bed covers, so it is only normal that I will feature one of its products today.
While this article is focused on Ford F150 trucks, this particular truck bed cover is available for any truck. That is because the cover is custom-made for any truck and model, providing the best possible fit.
So, if you struggle with getting a good fit for your truck, go for this one. Aside from the fit, I also enjoyed how it looked on my truck. The design is elegant, blends well with the truck.
A recurring issue I have faced when testing these covers is that many of them come with terrible instruction manuals.
I was very happy to see that this item comes with very well-written and easy-to-follow guidelines.
---
6. Best Under $1500 – Roll-N-Lock M-Series
What I Like and Dislike
Preserves an impressive amount of space.
Classic design of vinyl body stands out.
Vinyl provides frictionless rotation – eliminating scratches and noise.
A great combination of durability and ease of use.
Frictionless, smooth rotation every time.
I am wrapping up this section with a bang. This Roll-N-Lock M-series cover is something to behold!
A major complaint people have with retractable truck bed covers is that their canister takes up a lot of space inside the bed. This is unavoidable as the retractable function requires a canister.
However, Roll-N-Lock made the canister of this item extremely compact. With a 7¼" width, the canister of this item will not take up much space at all. So, you can preserve most of your truck bed space while still using the retract function.
Unlike all the other covers on the list, this one has a unique vinyl over the aluminum body. The aluminum undercarriage gives it the tonneau appearance, made with a contoured hinge plan.
Such design provides a frictionless, smooth rotation. There is also a finger insulation clasp that allows the user to clasp and use its handle easily. You can pull back the truck cover with a pull strap, which is also smooth.
---
Best Retractable Tonneau Cover for F150 – Buying Guide!
You should keep the following things in mind to ensure that your truck has the best retractable bed cover.
1. Compatibility
Compatibility should be the first thing you check when shopping for a tonneau cover. It must be compatible with your truck, or else you will not be able to use it.
Check the length of the tonneau cover. Then, check if the bed of your truck has a compatible size. Do not purchase a product if the sizing is off.
Also, if there are extra accessories in the bed of your truck, such as utility track systems, toolboxes, and others, you must ensure that the cover will not come in the accessory's way.
It should be able to fit the upgrade easily.
2. Durability
Retractable tonneau truck bed covers are not cheap by any means. They are an investment.
Naturally, you should expect the cover to last for years. Look for sturdy materials such as polycarbonate and aluminum.
Just the materials are not enough. The build quality of the tonneau cover should also be top-notch.
3. Performance
The main point of getting such a cover is to protect your truck bed and cargo from the weather elements. So, the bed cover must have excellent weather resistance.
Aside from keeping water out, it should also withstand extreme temperatures, rain, snow, and dust.
4. Canister Size
As I have stated, a popular complaint about retractable truck bed covers is that the canister takes up precious cargo space.
So, you should look out for the canister size. If it's too wide or bulky, you are better off finding another one.
If there is a specific type of cargo you frequently carry, such as planks, make sure the canister will not make it impossible for those items to fit inside the truck bed anymore.
5. Ease of Installation
Everyone wants a quick installation. Hiring professionals to install a cover will only add up to the cost.
Instead, look for one that can be installed with the help of a friend.
6. Ease of Operation
The cover should open and close easily. Sometimes, the locking system makes it bothersome to frequently open and close a cover. Watch out for that.
7. Price
Retractable tonneau covers come at all price ranges – from $500 to over $1500.
Set a budget first, then find a cover that provides excellent performance for its price.
---
Before You Go …
After several months of research, and comparisons undoubtedly the Retrax PRO MX won the race, and it is the best retractable tonneau cover for F150.
This cover ticks all of the boxes of my requirements, and I decided to use it after all the research was done.
Thank you for reading up to this point. Until the next time, have a good time!