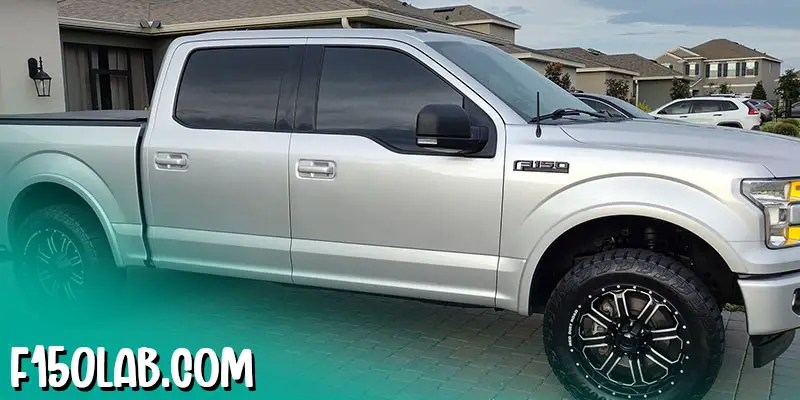 Ever faced the hassle of your F150's stock antenna snapping on your way to the garage or a parking lot? I mean, with a 31-inch antenna, such incidents are quite expected.
To avoid such instances and drive your vehicle in style while listening to your favorite radio stations, you should get the best short antenna for F150.
Give this article a read, and you will find the suitable one for your truck.
---
7 Best Aftermarket Antennas for F150 That Deliver Results!
If you are confused regarding which short antenna you should get for your F150, then I have some rather unique options for you here.
1. Best Overall – Rydonair 7-inch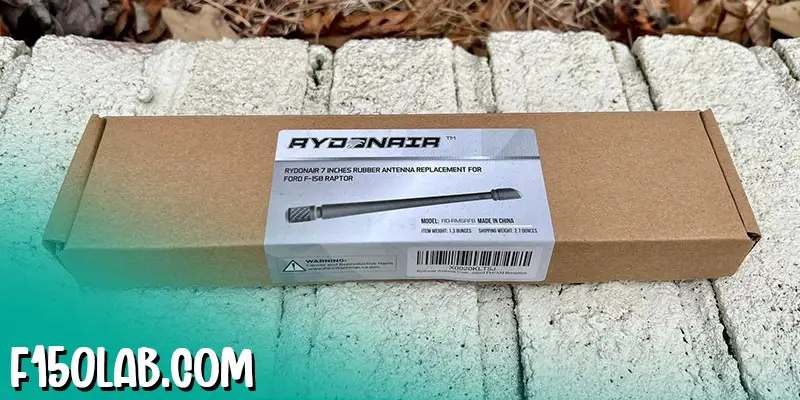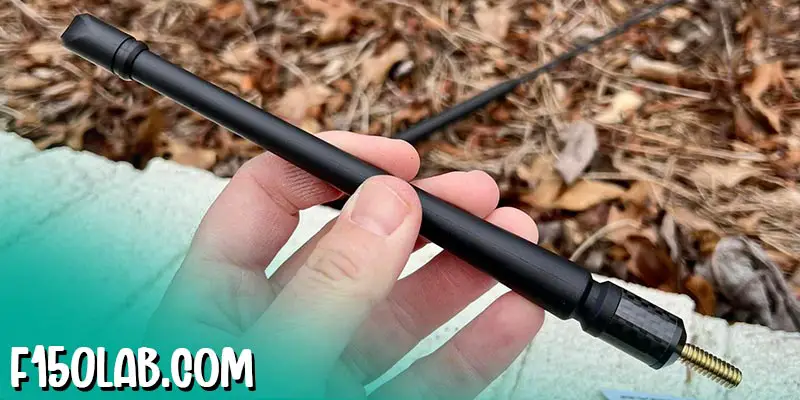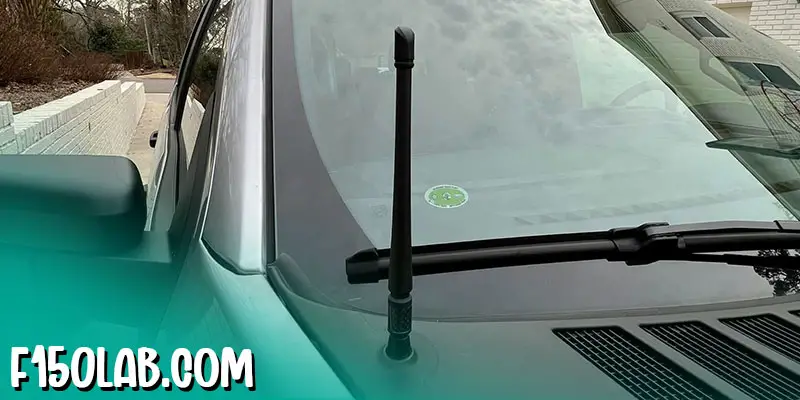 What I Like and Dislike
Perfect fit through compatibility
Hassle-free installation process
Low-profile and stylish look
Premium rubber and carbon fiber construction
Works with both FM and AM bands
Might lose radio reception at times
It doesn't receive all stations
The Rydonair short antenna is a great choice for Ford F150 trucks. This low-profile antenna is designed to fit the contours of your vehicle and features a premium rubber and carbon fiber construction for durability.
It is also easy to install and works with both FM and AM bands. However, you might experience some loss in radio reception at times, and it might not receive all stations.
User Reviews
The best bang for your buck on this shorty antenna. It's small yet powerful with reception. I changed the factory to this one and noticed no change in reception.

A. Mercado
Reception is definitely down on AM, especially under bridges. But the rest is good – no dealing with it at the car wash.

Eric Jean
Out in the country, it's not great, but inside the city limits, it's really good. I took it from my old truck and moved it to my new one. I like it.

Steve Simmons
---
2. Best for Extended Durability – AntennaMastsRus 6 3/4-inch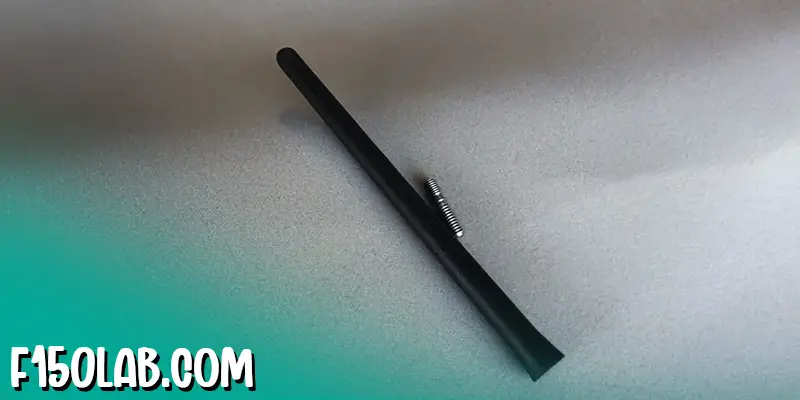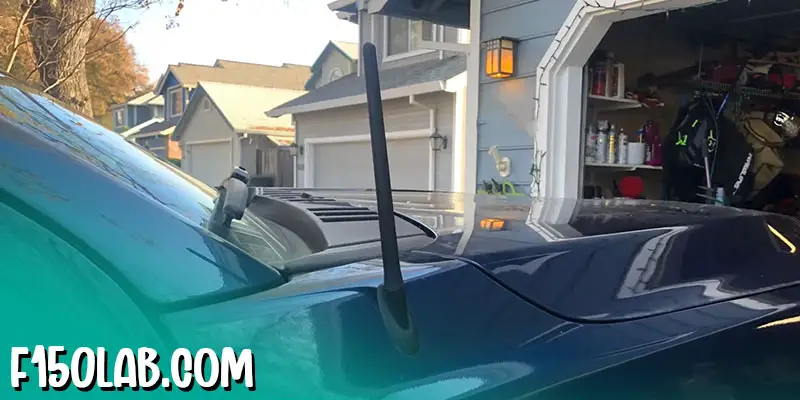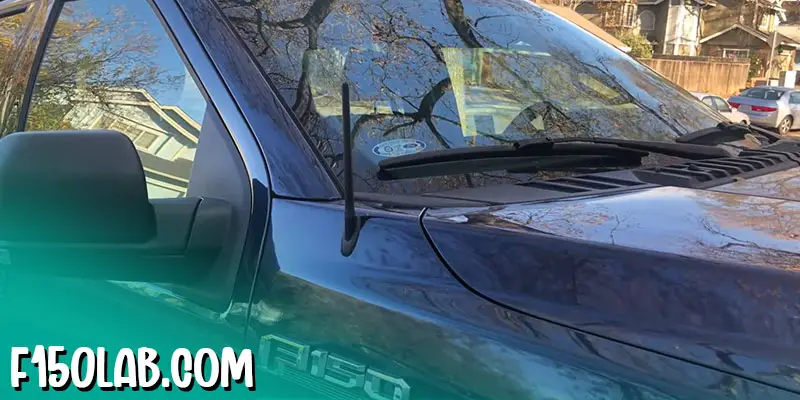 What I Like and Dislike
Easy installation with reliable compatibility
Can withstand car washes
Durable construction for longevity
It does not snap easily
The copper coil helps bring in more stations
May not withstand cold weather
AntennaMastsRus short antenna is designed to fit perfectly on Ford F150. This antenna is easy to install and provides reliable compatibility with your vehicle.
Its durable construction ensures longevity, making it resistant to car washes and other external elements.
The copper coil inside the antenna helps bring in more stations, while the rubberized finish prevents it from snapping easily. However, it may not withstand extreme cold weather.
User Reviews
The stations are coming in crystal clear and rock solid. While it's true that it's hard to beat a true 1/4 or 1/2 wave antenna, the 6 3/4 Original does the trick, and it also isn't almost ripped off by car washes.

G. Ainsworth
I added it to my 2017 F150. The antenna looks good on the car, but the reception is not very stable. Some radio stations fade in and out.

Jorge Esquivel
I have had this for nearly 2 years now, been through hundreds of car washes, and it still holds up extremely well, and I have no issues listening to the radio.

K. Jesse
---
3. Best for Optimum Reception – Rydonair 13-inch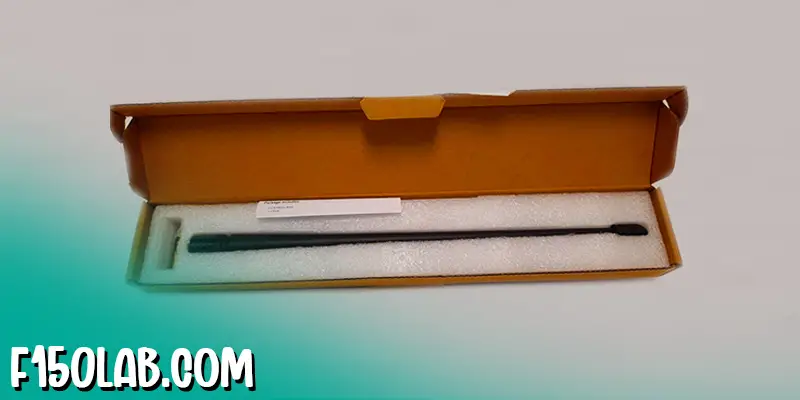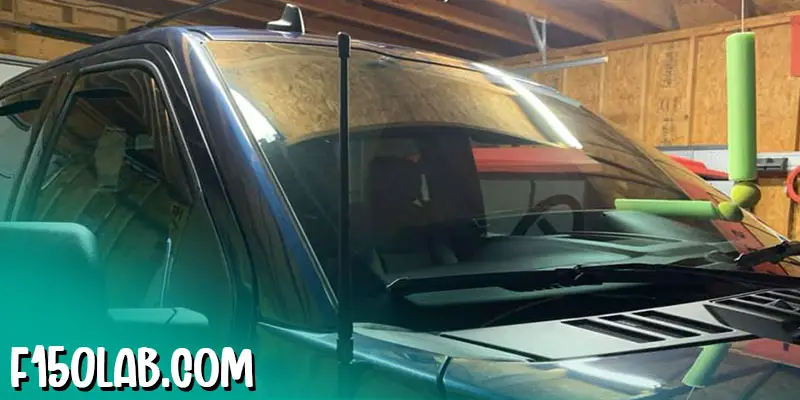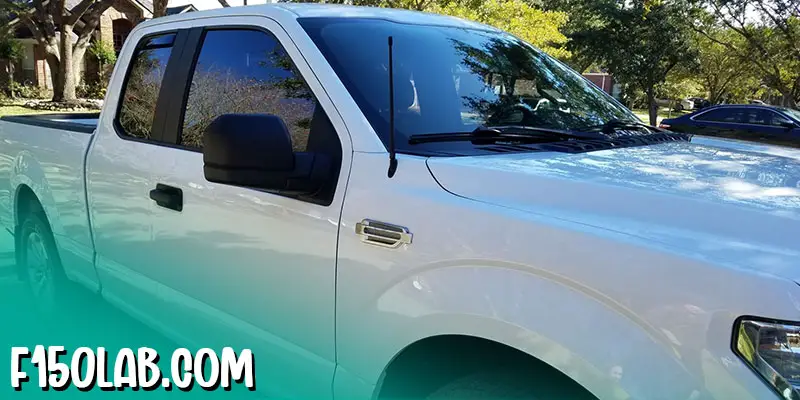 What I Like and Dislike
Perfect fit with effortless installation
Made of rubber for durability
Offers balanced performance
Contains shape memory
Stylish with added longevity
Suitable for both FM and AM stations
May lose signal at times
It needs to be removed before a car wash
The Rydonair short antenna is the perfect choice for Ford F150 owners looking for a stylish, durable antenna with balanced performance.
It is made of rubber, so it is resistant to wear and tear and contains shape memory, which ensures that it keeps its shape even in extreme weather conditions.
This antenna offers excellent reception for both FM and AM stations but may lose signal at times. It is also easy to install and requires no special tools or modifications. However, it should be removed before a car wash.
User Reviews
This antenna is a definite upgrade of the clumsy-looking stock antenna. I find the sound quality is just as good as with the stock antenna.

Peter B.
It gets 90 percent of the stations I got with the long stock antenna. Looks way better than the stock antenna. It works just fine for me.

David Jammy
I purchased this antenna for our 2015 Roush F150 Lariat to replace a 4′ stubby antenna the previous owner installed. Reception comes in great now, and we are able to pick up the extra HD station bands. Well worth the price.

Robert W.
---
4. Best Stubby and Minimal Design – CravenSpeed 3.2-inch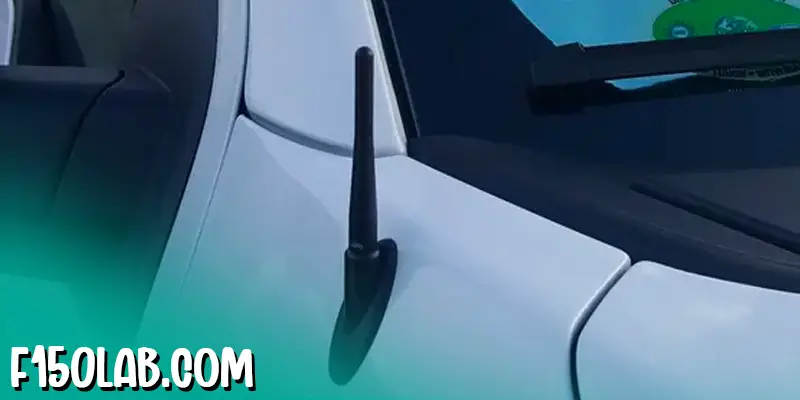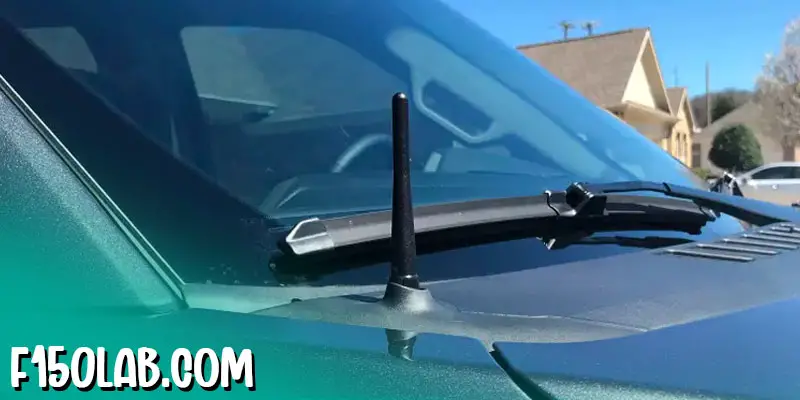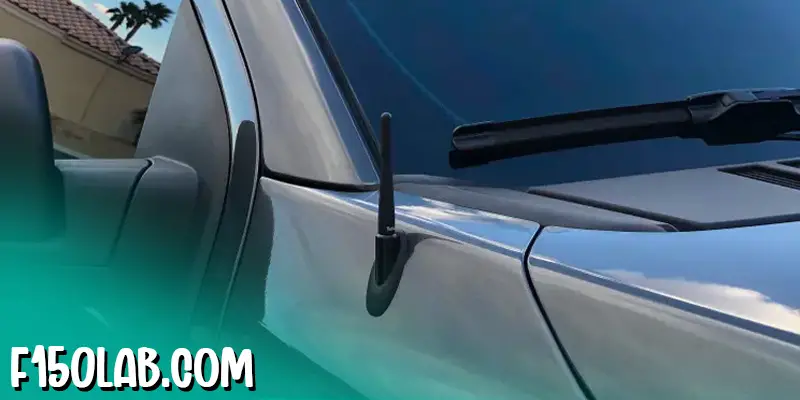 What I Like and Dislike
The antenna stands 3.2 inches tall
It does not fade or chip
Durable and resistant to corrosion
Can withstand car washes
Prioritizes reception and is easy to install
It doesn't work in some areas
Can break at times
The CravenSpeed short antenna is an ideal choice for Ford F150 owners who want a low-profile antenna that offers superior reception.
This antenna stands just 3.2 inches tall and is made from a durable material that won't fade or chip over time. It is also corrosion-resistant and can withstand car washes, making it perfect for daily use.
The antenna prioritizes reception and is easy to install, however, it may not work in some areas and can break at times.
User Reviews
Easy install. It works well – approximately 80-90% as effective as the really large F150 antenna that came with the truck.

Allen C.
This is a great antenna replacement and a company with outstanding customer service. I still get all the stations I got before, with some diminished clarity on a few. Overall looks great, and I still have the radio if I'm ever desperate for something to listen to.

Gabriel R.
Easy to install, but the range is very limited. If you live close to your favorite radio station, this stubby antenna will work for you. But, if you live 15 miles or more from the radio station, you will not have the same reception as you do with the stock factory antenna.

Jonathan M.
---
5. Best Anti-Theft Design – Ronin 4-inch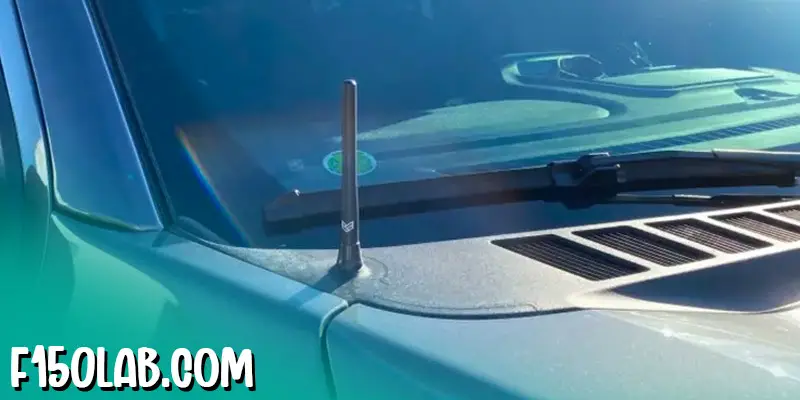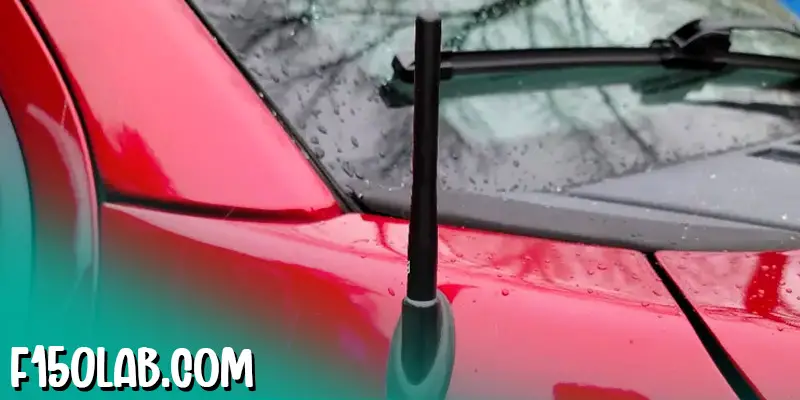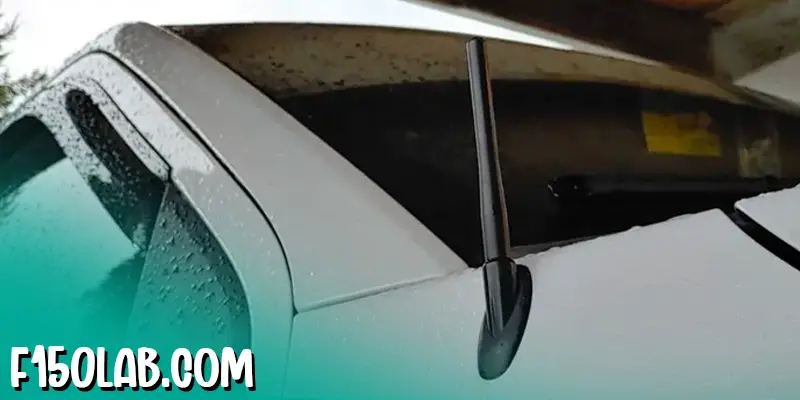 What I Like and Dislike
Perfect fitment and easy installation
4-inch tall for sleek style
Matte finish for durability
Safe during car washes
It prevents it from getting stolen
Has reception issues
Loss of multiple stations
The Ronin 4-inch Short Antenna is an excellent choice for Ford F150 owners looking for a sleek, low-profile antenna with perfect fitment and easy installation.
The matte finish provides a subtle yet stylish look, and the antenna is safe during car washes, preventing it from getting stolen.
However, some users have reported reception issues and the loss of multiple stations.
User Reviews
We bought this for our new F150 truck because I was sick of getting out of the car each time we went to the car wash to take off the antenna. This was super easy to install and has given us great reception and quality!

Cody Jose
I was tired of hitting tree limbs and having to take off my antenna when going through a car wash. I installed this on my 2016 F150, and I do not notice any difference in quality from the OEM antenna. It is very sturdy, and I doubt I will have any issues with a car wash.

Michael Porter
It's a great-looking antenna, which is extremely easy to install and almost impossible to remove. If you live outside of the city, it's horrible reception. It's pretty much permanent once you install it. I almost broke the antenna mount on my new truck.

Jeff C.
---
6. Best Bullet Antenna – AntennaX 5.5-inch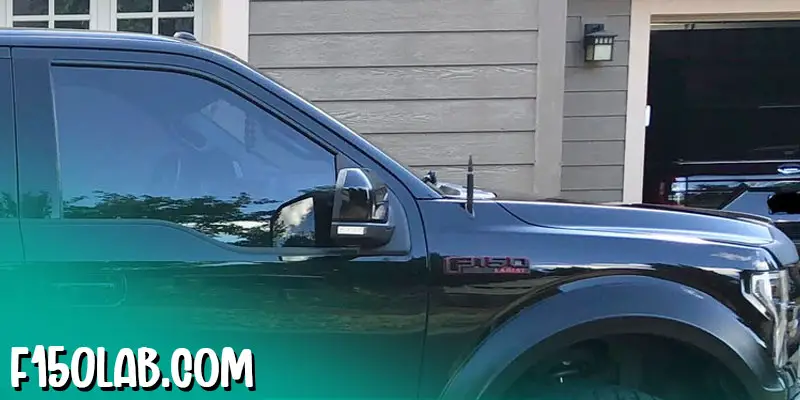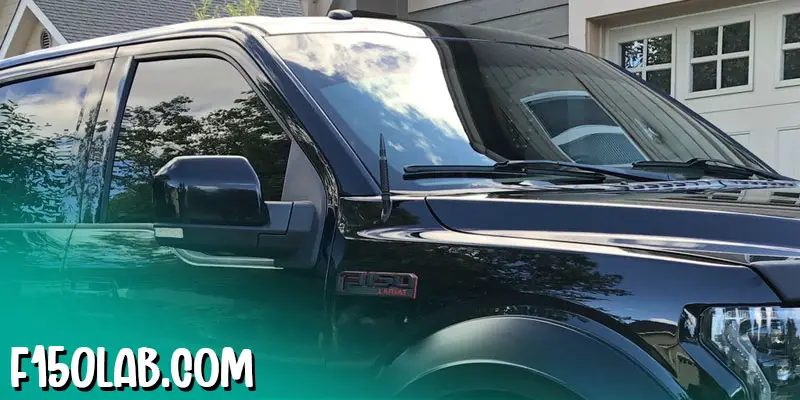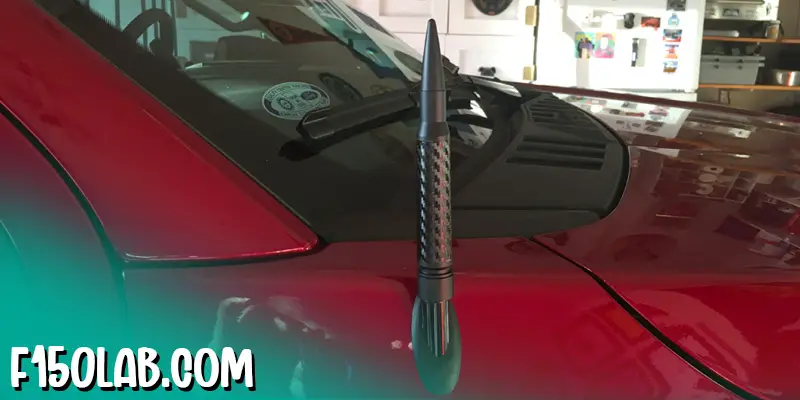 Bullet style antenna for fashion
The 5.5-inch antenna offers style
Provides long-term service and does not chip
It can be installed easily
Amazing reception performance
Fails to get signal at times
It only gives static at times
The AntennaX 5.5-inch short bullet antenna is an ideal choice for those who want to add a bit of style to their Ford F150. It provides long-term service and does not chip or fade quickly.
Installation is straightforward, making it an excellent option for those who don't have time for complicated installations.
Moreover, it has an amazing reception performance and is unlikely to fail in getting a signal. However, it may give static at times.
User Reviews
So far, the antenna seems pretty good. I get a little bit of static on certain stations, but I listen to my phone or XM Radio most of the time, anyway. I really got it for the look, which is awesome!

Jake Johansen
Radio signal goes in and out, but I think it might just be my area. I like it overall. It has faded a little since I've had it for about a year, but that's expected of anything.

Valerie J.
---
7. Best Value for the Money – TrunkNets 4.25-inch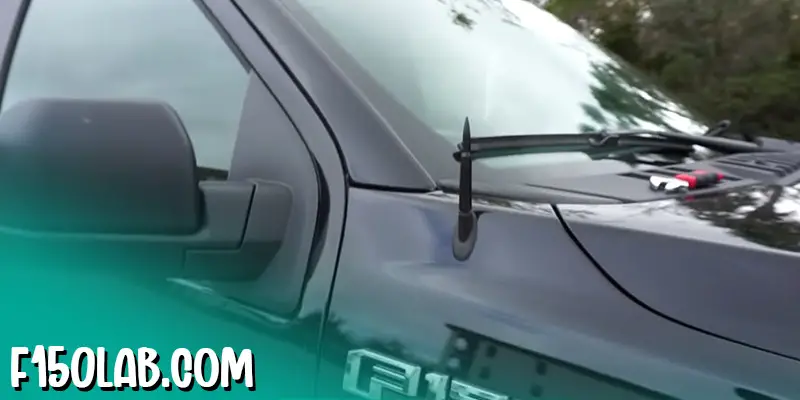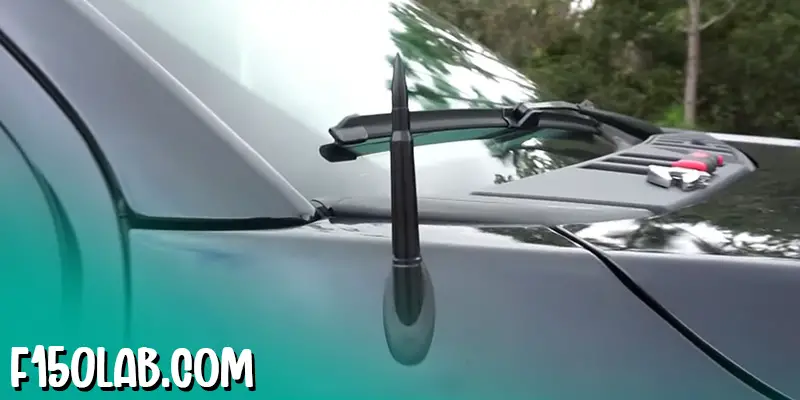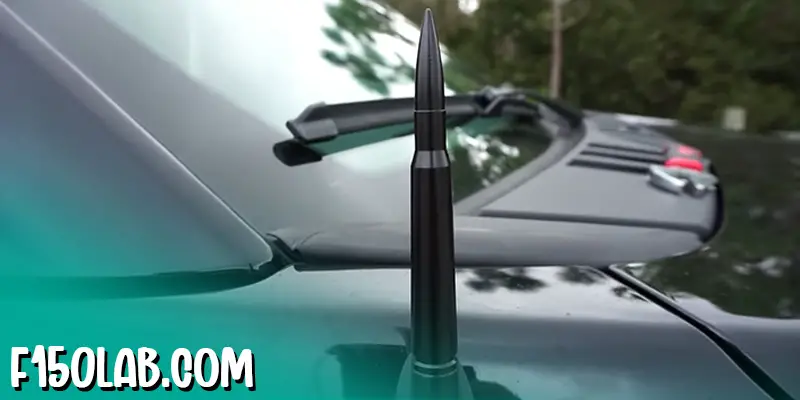 What I Like and Dislike
Ensures the perfect fit and easy installation
Provides both style and performance
4.25 inches tall for low-profile
Resistant to both wear and tear
Can last through car washes
Poor reception
It does not function well
The TrunkNets bullet antenna is designed to provide Ford F150 owners with both style and performance. At only 4.25 inches tall, this low-profile antenna ensures a perfect fit and easy installation on your vehicle.
It is also highly resistant to wear and tear, making it a great choice for long-term use. The antenna can even withstand car washes without issue.
However, its small size does mean that it may not function as well as larger antennas when it comes to reception.
User Reviews
I loved this antenna. It looks great and feels strong. However, it clearly states that this is car wash-proof, which is not true. I went through my first automatic car wash with this, and it immediately snapped off.

Gary Hagler
The bullet shape looks cool and easy to install, but its ability to tune in to FM radio stations is poor. It's a noticeable difference compared to the factory antenna. I'm keeping my bullet-shaped antenna because I like the look of it, and I almost exclusively listen to SiriusXM.

J. Brett
I wanted to change the super long antenna that comes with the truck. I haven't noticed a drop in signal at all. I'm still getting HD radio and clear audio, and I like the look of the bullet antenna.

Rigo Reyes
---
Best Short Antenna for F150 – Buying Guide!
Before you get into the entire process of getting a short antenna for your F150, you should have a general idea regarding what you should be looking for and what you should avoid. 
So, I have made a list of all the factors and features that you should keep in mind when looking for a short antenna.
1. Make Sure It Fits On Your Truck
There is no point in getting the antenna if it doesn't fit your vehicle.
So, go through the list of models provided in the product description – and if you see your F150 model, it will surely provide the perfect fitment. 
2. Consider the Reception Quality
You wouldn't want to lose your favorite stations in the process of replacing your vehicle's antenna. Therefore, you should look into how good the signal reception of the antenna is.
At the same time, you should also check if it supports both AM and FM reception. 
3. Make Sure It's Durable
The last thing you would want to do is replace the antenna as soon as you get it. Therefore, you should look into the construction of the product itself.
Make sure it is made of heavy-duty materials – either ABS plastic or stainless steel. Also, make sure the item will not snap under stress. 
4. Make Sure It's Car Wash Safe
Most antennas cannot withstand car washes. It also implies that they cannot withstand rain and such.
So, if you want to get an antenna that you won't have to remove when washing your vehicle, you should look accordingly.
5. Internal Wire Quality Should Be High Quaility
The internal wire quality of the antenna determines how well its reception is going to be and its durability to some extent.
Try to go for stainless steel or copper wiring, as those will ensure good performance – even at a higher cost. 
6. Make Sure the Design and Style Matches
Performance is not all that matters –appearance does as well. In fact, the outlook of an antenna can change the ambiance of the vehicle as well.
Hence, you should pick the design accordingly – whether you want something sleek and modern or something flashy and heavy, it is totally up to you. 
7. Choose the Antenna Length According to Your Needs
Since we are talking about a small antenna here, the length should be somewhere between 3-10 inches.
Anything taller than that sort of defeats the purpose – but that wouldn't be a bad option either.
8. Make Sure It's Easy to Install
You wouldn't want to seek professional help installing an antenna in your F150 – why should you spend the extra money? That is why you should go through the product's installation process before you purchase it.
At the same time, you should also check if it requires additional tools or not.
---
Before You Go …
Even though all the antennas mentioned here are pretty impressive, I have found the Rydonair 7-inch to be the best short antenna for F150.
This product comes with a rubber and carbon fiber construction that makes it relatively durable. At the same time, it provides a decent reception signal along with ease of installation.
But if you feel like any other product will adhere to your requirements more strongly, then you should definitely go for that.