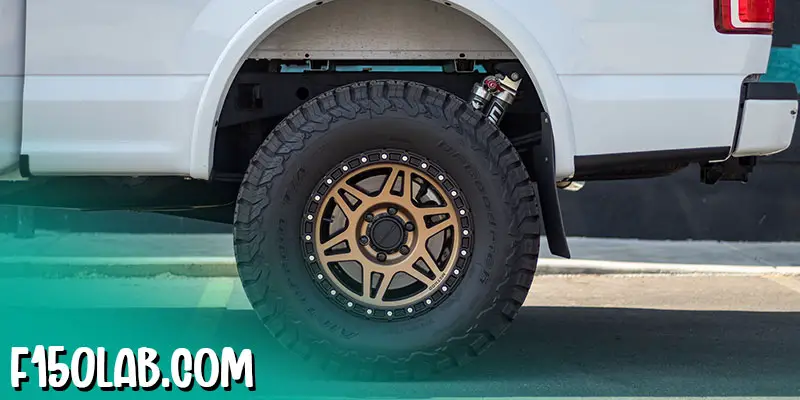 It can be hard to decide which tires are better suited for your Ford F150 4×4 as there are so many options to choose from. Don't worry, I am here to help!
In this article, I am going to discuss about some of the best tires for Ford F150 4×4 trucks.
So without further ado, let's get right into it.
---
7 Best Tires for Ford F150 – [Top Picks of 2023]
I decided to show you the best tires for your truck that deliver better performance.
1. Best for All Road Conditions – BFGoodrich T/A KO2
What I Like and Dislike
Deflects protruding objects properly.
The sidewall is pretty much split-resistant.
Offers stellar snow, mud, and rock traction.
Provides praiseworthy traction on regular roads.
Utilizes 3-D sipes to stabilize the car.
Cannot eject stones from the grooves that efficiently.
When it comes to the best tires for F150 4×4, I mainly prioritized the overall durability first. And this one from BFGoodrich stood out the most in that regard.
So, you might be wondering what makes this tire so durable? Firstly, it utilizes CoreGuard technology. This technology offers the tires bruise-resistance and split-resistance capability to the sidewalls.
As a result, the sidewalls can deflect the protruding objects that are generally found in harsh terrains.
Additionally, the model utilizes a serrated shoulder design. This design provides an increased amount of traction on rock, snow, and muddy terrains.
The off-road performance I experienced was indeed something!
It even offered a stellar performance on the off-road conditions where lowered tire pressure was essential. Also, thanks to the 3-D sipes, my truck's traction and handling saw an improvement.
Furthermore, the 3-D sipes made sure that the truck could stabilize properly on challenging terrains. Those even provided the tires the extra biting power that is required to tread on snowy roads.
---
2. Best for All Road (Alternative) – General Grabber AT/X
What I Like and Dislike
Exceptionally durable.
Balances the truck properly.
Offers impressive off-road performance.
Stays quite on on-road conditions.
Provides an insane amount of traction on snowy-roads.
The design might be too aggressive to some.
It might lose its balance a bit in exceptionally challenging terrains.
Impressive off-road capability, exceptional on-road performance, and outstanding durability are a few of the other things that most of the tires will claim to offer.
But when it comes to delivering, not all do. However, for this one, the case is a little different.
The first thing that makes this option stand out the most is the Stabili Tread technology.
It ensures that the tires are properly balanced on both on-road and off-road terrains. Also, it enhances the overall durability of the sidewalls.
Talking of durability, it also integrates DuraGen technology. That will increase the off-road durability substantially.
You will really not have to worry about the sidewalls splitting while treading on incredibly tricky terrain.
Even though the unit has an aggressive all-terrain design, it is surprisingly quiet on regular roads. The comfort balance technology is what plays a vital role in this case.
It makes sure that the riding experience is comfortable and quiet on the streets.
Moreover, the tires sport a three-peak mountain snowflake design. This design enhances the traction on snow and off-road terrains.
It will also deliver the studdability that challenging roads in different weather conditions require.
---
3. Best for All Weather Conditions – NITTO Ridge Grappler
What I Like and Dislike
Offers superior off-road performance.
The traction on mud and wet terrains are exceptional.
Makes low noise on highways.
Provides excellent traction on all seasons.
Sports Z grooves to offer extra biting power.
Not that easy to balance the truck with these tires.
A bit noisy in off-road terrains.
Hybrid terrain tires have been making a lot of noise in the market recently.
They are claiming a lot of things, and most things looked very promising to me. For that reason, I gave this one a try, and I am certainly glad I did.
It offers the best of both worlds as a hybrid tire in terms of all-terrain and mud-terrain tires. 
It sports a revolutionary hybrid tread pattern that will provide superior off-road performance. The traction on mud and other tricky terrains was excellent too.
Thanks to the variable pitch tread pattern, the tires are exceptionally quiet on regular roads. Your experience on the highway will be smooth as butter.
In fact, the comfort it offers on paved roads is better than most of the all-terrain tires.
The tires also come boasting shoulder grooves that have a unique arrangement.
The grooves' alternating lengths and widths trait ensure that the truck gets good enough traction in all seasons and road conditions.
Moreover, there are lateral Z grooves. The zig-zag pattern of those offers an extra biting power on the edges. So, it provides a higher level of traction on snowy roads too.
Also, the dual sidewall design made my truck look pretty unique.
---
4. Best for All Weather Conditions (Alternative) – Cooper Discoverer STT Pro
What I Like and Dislike
The sides and grooves are correctly protected.
Deflects sharp objects efficiently.
Offers higher grip on muddy and wet terrains.
Has earth diggers that provide exceptional traction.
Boasts a higher level of durability.
It loses its balance pretty easily.
A bit loud on regular paved roads.
Are you looking for an extreme all-season tire? Look no more because Cooper has got the right offering for you.
I am pretty amazed by the all-season performance that it offers, and I believe the case will be the same for you too!
To start with, it integrates Stone Armor Technology. That protects the grooves and the sides of the tire from getting damaged.
It also does a proper job in terms of deflecting any of the sharp debris or rocks that might be on the table.
The grip that it gains on mud terrains is truly something. It utilizes the Mud Slingers 2.0 sipes to continuously clear the thick debris and mud from the grooves.
This one even has additional notches and wide trenches to offer extra traction.
There are earth diggers on the sides. Those dig deeper into the off-road terrains and provides the truck the gripping power it requires to tread on tricky terrains.
The shoulder lugs and scoops are reasonably large too.
Lastly, it sports Rock Climber Sidewall technology. It integrates the tire with flex grooves and climber cleats that will let your truck power through the mud.
And for the Tek3 technology, you can expect this one to last for an extended amount of time.
---
5. Best for MPG Boost – Michelin Defender LTX M/S
What I Like and Dislike
Provides shorter braking distances on wet roads.
The traction on wet and snow roads are reasonably high.
Has deep sipes and grooves.
Offers great mileage.
Utilizes EveTread compound to achieve higher durability.
Road noise is comparatively high.
A bit hard to balance.
While I have tried out plenty of great all-season tires on my Ford, one thing that I was not impressed with is the short braking distances they offered. Well, this one amazed me in that regard.
The thing that made this one offer shorter braking distances on the wet roads is the grooves.
They are capable of getting a proper grip on most of the road conditions. Due to that, both the traction and braking distances are highly competitive.
These tires are pretty durable as well. They integrate EveTread compound, which offers 10 percent more longevity than regular tires utilizing regular compounds. So, you can expect them to provide extended service.
Even the snow traction of the tires is excellent. The grooves and sipes do a proper job of digging deep. These deep grooves and sipes are also going to come in handy when you are driving on exceptionally tricky terrains.
Aside from that, the tires can offer great mileage. The eco-friendly trait can save up to 65 gallons over the overall lifespan.
Now, that is something that most regular tires surely cannot offer.
---
6. Best for Winter and Snow – Nokian Hakkapeliitta R3
What I Like and Dislike
Provides relentless grip on snow roads.
Keeps the right balance on icy roads.
The trades adapt to different weather conditions.
Stays quiet on paved roads.
Saves fuel by utilizing an eco-friendly tread design.
The skidding is minimal but not non-existent.
Does not have a substantially high load capacity.
Not all of the tires have to be studded just to offer impressive performance on snow-covered roads. Do not believe me? Well, you got to try out this offering from Nokian then!
The brand focused most on safety. They have integrated a suitable compound that offers relentless grip on most of the tricky snow-covered roads. And the best part is that it can provide that while keeping the right balance.
When it comes to comfort, they have utilized Arctic Sense grip design. There are different sipes, which flexibly adapt to the variations of the weather.
Thanks to the bio-based Cyro crystal particles, the rubber compound can grab the ice properly and stay quiet on paved roads.
Furthermore, the tread has snow claws. Those dig deep into the ice and snow. The shoulder blocks are properly reinforced too.
As a result, the braking and acceleration timings are reasonably low.
These tires even provide a higher mileage. The eco-friendly design makes them capable of saving fuel while not sacrificing one bit on the performance.
They even offer a praiseworthy handling level on icy roads.
---
7. Best for Muddy Road Conditions – Mickey Thompson Baja MTZP3
What I Like and Dislike
Utilizes proprietary tread compound that is durable.
The traction on muddy terrain is exceptionally high.
Provides good handling on wet roads.
Resistant to chipping, splitting, and cutting.
Sports variable draft angles to keep the grooves clean.
Road noise is comparatively high.
The design might be a bit too aggressive.
The mud-terrain tires are probably the go-to option for many. Considering that, I decided to give the couple a try. Among all the ones I tested, this one from Mickey Thompson stood out the most.
Firstly, the construction design of the tire amazed me. It utilizes a proprietary tread compound that is exceptionally versatile.
The tire offers impressive performance on muddy terrains while keeping the traction and handling level high.
The traction on off-road and on-road is reasonably high too. The silica-reinforced tread compound holds a higher capability of providing better handling on wet roads as well.
Other than that, the compound is highly resistant to chipping and cutting. The sidewalls can deflect pointy and sharp objects properly.
Also, thanks to the three-ply sidewall construction, the handling will be highly responsive.
Moreover, the tread pattern has a self-cleaning design. The grooves automatically clear out the rocks using the variable draft angles.
It also has shoulder scallops that are angled. Those will enhance the off-road traction substantially.
---
Best Tires for Ford F150 – Buying Guide!
Before you do rush in and spend your valuable money, here are the things that need to be in your mind.
1. Fitment
The first thing that you need to check is the tire's compatibility. No matter how good of a driving experience the tires offer, if it is not compatible with the F150, you will not be able to install them. 
So, before you make a purchase, read the label. Consider the rim size, tire width, and other sizing factors and determine whether the tire will fit your F150 or not.
2. Road Conditions
This factor is something that will depend more on personal preference and driving style.
Consider whether you want to drive on the highways only or off-road terrains only. Keep your driving style in mind and pick the right type of tire.
3. Design and Style
Most truck drivers do not like the aggressive designs that some tires have. You might be one of them. So, check the overall tread pattern and design.
If one of the tires has an aggressive design, then you might want to keep on looking.
4. Good Traction
Another crucial thing that you need to check is the traction. Even if a tire is durable, you will have a hard time handling and controlling the truck if it does not offer good traction.
So, check the traction before purchasing.
5. Road Noise
The road noise is something that will depend on the tread design. Usually, the aggressive tires are the noisiest. However, some aggressive off-road tires are reasonably quiet on paved roads. They will utilize a modified tread pattern.
6. Durability
Plenty of factors come into play when it comes to treading life. The tread pattern and compound play the most important role in this case. 
I highly recommend considering these two factors if you want to get a tire that will last for an extended amount of time.
7. Fuel Economy
In terms of mileage, the pattern plays the most crucial role. The more eco-friendly the tread design is, the more fuel the tire will be able to save.
So, if you want better mileage, I would recommend opting for tires that have an eco-friendly tread pattern.
8. Price
Some tires cost a lot but offer average performance.
For that reason, before making a purchase, check the overall performance and consider all the other factors and consider whether the price is worth it or not.
---
Before You Go …
I know how hard it is to get a well-performing tire. It required great and intensive testing for me. Well, through this article, I wanted to eliminate that hassle for you.
The BFGoodrich T/A KO2 are the best tires for Ford F150 4×4. They are all-terrain tires that keep all the factors balanced and perform exceptionally well.