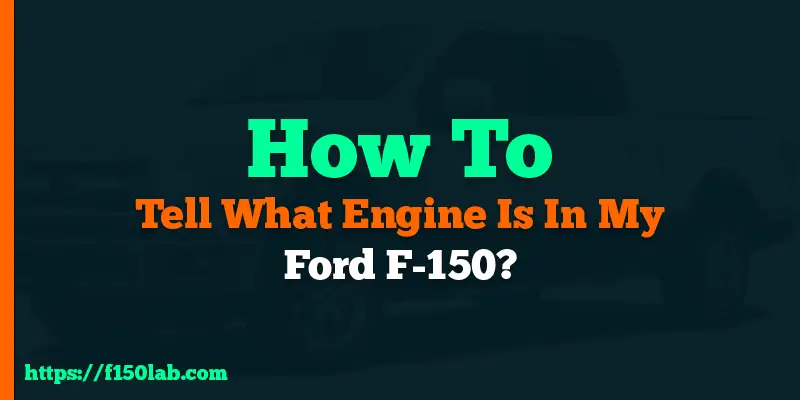 Whether you have purchased a used Ford F150 or lost the owner's manual of your car, there will be many occasions when you find yourself asking how to tell what engine is in my Ford F150?
Luckily, every car manufacturer uses a few identifying codes like the VIN code, from which you can easily know the engine type, engine size, manufacturing year, and some other information about your truck. You can also check out the window sticker to know your engine type, size, and transmission type.
Apart from that, the rear end code of your F150 will provide significant info on the axle ratio, engine power, and capacity. 
To assist you in finding the accurate engine type of your Ford F150, here we will discuss the key ways of understanding the identification codes. So, without further ado, let's jump right in.
---
---
How to Tell What Engine Is in My Ford F150?
If you're buying a new or used car from a showroom, there will be a window sticker or a published listing stating all the necessary engine information you need to know.
In this sticker or listing, the engine size, type of transmission, and the number of cylinders will be included.
Also, the owner's manual will contain all such details about the engine.
Apart from that, the easiest way to know the engine details is to use the VIN code that tells you the engine size, type, number of cylinders, manufacturing year, and many other details.
---
What Engines Are Available for Ford F150 in 2022?
Before anything else, you have to know what type of engines are used in Ford F150s and how to differentiate one engine from the other.
Below we have listed all 5 types of engines that are currently offered for Ford F150s. Let's take a look –
3.3-Liter Ti-VCT V6: This 3.3L naturally aspirated gasoline V6 is the base engine for the Ford F150 lineup. It can produce 265 lb-ft of torque and 290 horsepower using the assistance of twin independent variable cam timing or Ti-VCT.
As the direct injection and port fuel system is also used in this engine, the power and efficiency of this Ford engine are improved significantly.
Other important features of this engine include an all-wheel drive, 10-speed automatic transmission, and rear-wheel drive. It can tow around 8,200 pounds of weight.
2.7-Liter EcoBoost V-6: This 2.7L twin-turbo gasoline V6 engine is small yet superbly powerful. It can provide 400 lb-ft of torque and an excellent 325 horsepower.
Along with the PFDI and Ti-VCT technology, the engine also features two intercooled turbochargers to generate this power through the wheels.
Impressively, an auto-start and stop feature is also provided to save your fuel. The engine uses a ten-speed automatic transmission to send power. It can tow nearly 10,100 pounds.
3.5-Liter EcoBoost V-6: Just like the previous one, this engine also uses the amazing EcoBoost turbocharger technology.
Yet, this engine provides a higher output of 500 lb-ft of torque and 400 horsepower. Common features like PFDI, Ti-VCT, and auto-stop and start are also included.
A ten-speed automatic transmission is used to channel the required power to the two rear or all four wheels. What makes this engine truly incredible is the towing capacity which reaches up to 14,000 pounds.
3.5-Liter High-Output EcoBoost V-6: With its 510 lb-ft of torque and a powerful 450 horsepower, this engine provides the car with a sporty character. The noticeable features include VCT boost power and extra efficiency, auto-stop and start, and PFDI.
While the power and efficiency are top-notch, the towing and hauling power isn't very impressive. The engine allows the vehicle to tow 14,000 pounds and haul nearly 1,520 pounds.
5.0-Liter Ti-VCT V-8: The 5L V8 engine uses the PFDI and Ti-VCT to produce 410 lb-ft of torque and around 400 horsepower. Here's the interesting thing about this engine. You can easily convert this Ford engine to run on either propane or compressed natural gas.
It supports a towing capacity of 13,000 pounds and uses a ten-speed automatic transmission for generating power to the rear wheels or all four wheels.
See Also:
Best Exhaust for Ecoboost
---
What Is VIN?
The full form of VIN is Vehicle Identification Number, and it's the most effective way to tell some important aspects of a vehicle.
Each Ford F150 will have a 17-character VIN code, and 8 characters of this code will provide you with enough information about the car engine.
You can use the VIN code to know whether your vehicle is the same as the original one or not. A typical example of the VIN code is '1FTLF14T54L100526'.
---
Where Is the VIN on a Ford F150?
Usually, the VIN code is mentioned in the published listing information of a Ford F150. Also, you can easily find it in the owner's manual that comes with your vehicle.
However, if you fail to find your user manual, you can find the number in two different locations of your car.
Check out the base of your car's windshield on the driver's side. Or, you can find out the VIN code on the label on your door pillar present on the driver's side.
---
How to Tell Ford F150's Engine Type From Window Sticker?
If you're getting a new Ford F150 from a showroom, you'll find window sticker plastered on the side of the car window.
The sticker provides tons of information about the vehicle allowing you to understand its features.
From the top portion of the sticker, you'll get to know the model of the car, manufacturing year, type of transmission, and engine size. The vehicle identification number or VIN will also be on the window sticker. 
You can use this code and visit Ford's official website for more information about the engine.
---
How to Tell Ford F150's Engine Information From Rear End?
The rear end or rear axle ratio is found on the safety compliance label present on your door pillar located near the side door.
From this 2-digit code, you'll be able to know whether the engine has higher or lower horsepower and towing capacity.
Typically, a lower axle ratio indicates that the power and capacity of the engine are low, but it will offer you a better fuel economy.
Fords with higher axle ratios have increased power and towing capacity. But, you need to sacrifice fuel economy.
For example, if the rear end code is 15, it indicates a 3.15 axle ratio. This means there will be 15 engine revolutions for each spin of your car wheel.
On the other hand, the number 26 means your Ford is equipped with a 3.73 axle ratio. And there will be 73 engine revolutions for each spin of your car wheel.
Ford F150s with higher revolutions are more powerful. Also, such engines are capable of pulling greater loads.
See Also:
Best Tuners for Ecoboost
---
How to Identify Your Ford's Characteristics Using the VIN Code?
As you already know, a VIN code has 17 characters. The characters can be either a letter or a number. Now let's find out what is the significance of each character.
First 3 Characters of VIN
Known as WMI or world manufacturer identifier, the first 3 characters tell where the vehicle was manufactured and what type of vehicle it is.
Let's consider the code '1FTLF14T54L100526', for instance.
While the first character '1' implies that the vehicle was manufactured in North America, the character 'F' tells you it was made in the U.S. Lastly, 'T' implies that the vehicle is a Ford F150.
The 4th Character of VIN
It provides you with information about the types of restraint like brake, suspension, etc. In the code '1FTLF14T54L100526', the fourth character indicates that your vehicle has active belts and airbags for the driver and passenger.
Plus, the engine can tow around 10,000 pounds.
5th to 7th Characters of VIN
These characters reveal information on the series and body type of your car. From '1FTLF14T54L100526', we understand that it's a Ford-series F150, and the vehicle has a four-wheel drive.
The 8th Character of VIN
If you're only interested in knowing the necessary information about your Ford F150 engine, then the 8th character will be all that matters. Here's what various characters denote:
B, C, D:

These characters tell that it's an in-line four-cylinder engine. Here, the four cylinders are mounted on a straight line in a single bank with the crankcase. The bank of cylinders will be oriented in either an inclined or a vertical plane.
1, 2, 4, 6, E, K, M, T, U, V, X:

Here, the engine is a V6 engine, meaning that it's a 6-cylinder piston engine where the cylinders share a general crankshaft. Also, the cylinders are placed in a V-like position.
3, 5, A, F, H, L, P, R, W, Z:

All these characters indicate a V8 engine. The cylinders of this 8-cylinder piston engine share a general crankshaft. And they are placed in a V-like position.
S or Y:

From these characters, we understand that it's a V10 engine. Just like the previous ones, all the cylinders of this 10-cylinder piston engine share a crankshaft and are placed in a V-like position.
Now let's consider the code '1FTLF14T54L100526' for a more detailed understanding. The 8th character 'T' implies that it's a 3.5-liter V6 GTDI engine.
It needs gasoline to run and generates 264 to 272 kilowatts of power.
9th to 17th characters of VIN
The 9th character is a randomly generated digit for checking whether the VIN code is valid or not. From the 10th character, you can know in what year the vehicle was manufactured.
Similarly, the 11th character reveals where the vehicle was assembled. The last 6 characters are the serial number that was given to the vehicle during production.