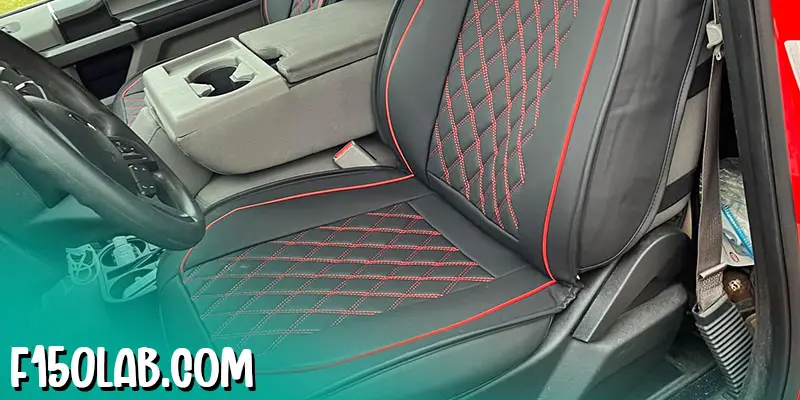 No matter how you use your Ford F150, one thing is for sure – you want to keep it looking good. That's why I've put together a list of the best seat covers for F150 trucks.
Whether you're looking for something to protect your seats from dirt and grime or you want to add a little style to your truck, I've got you covered.
So without further ado, let's get right into it.
---
---
Best F150 Seat Covers – Make Your Truck Stand Out!
If you are in the search of suitable custom-fit seat covers for your Ford F150, then here are some amazing options for you.
1. Covercraft Carhartt SeatSaver Seat Covers – Best for Overall Performance
What I Like and Dislike
Extremely comfortable material
Easily washable
Does not require much cleaning
Effortless method of installation as well as removal
Can be fitted easily for less hassle
Little difficult to put on the headrest covers
Does not include proper instructions
Covercraft Carhartt SeatSaver seat covers are durable and easy to clean, making them perfect for protecting your vehicle's interior from stains and damage.
The snug-fit design ensures that the covers stay in place and provide ultimate comfort. Additionally, the Carhartt branding adds a rugged and stylish touch to your truck's interior.
Tthe covers can be challenging to install and require some adjustments to fit properly.
---
2. Katzkin Leather Seat Covers – Best for Extra Comfort and Durability
What I Like and Dislike
Maintains a classy appearance throughout use
Very durable
Prioritizes comfort
Provides a custom fit
Withstands abuse for long periods
Time-consuming to install
Highly expensive.
Katzkin leather seat covers are durable and repel stains, making them easier to clean and maintain. Additionally, there are a variety of design options available to match any unique style.
However, it is important to note that Katzkin seat covers are more expensive than traditional ones and may be more challenging to install.
Overall, if you're looking for a high-quality, long-lasting upgrade to your Ford F150's interior, Katzkin Leather Seat Covers are definitely worth considering.
---
3. Rough Country Neoprene Seat Covers – Best Value for the Money
What I Like and Dislike
Top-notch breathability for better performance
Water resistance and protection from UV ensures minimal damage
Long-lasting with durable fabric
Effortless installation with great fit
Provides top-notch comfort at all times
Takes time to install
Does not protect from dust
Rough Country Neoprene seat covers are made from high-quality neoprene material, which is waterproof and durable. This means they can withstand spills, dirt, and other potential stains that could damage your original upholstery.
They offer a stylish look to the interior of your truck. Additionally, the covers are relatively easy to install and fit perfectly on Ford F150.
They may shift slightly while driving, which can be uncomfortable for long drives. Also, the neoprene material may not be as breathable as other materials, potentially causing some discomfort on hotter days.
---
4. Aierxuan Black & Blue Seat Covers – Best for Beautiful Outlook
What I Like and Dislike
Provides a stylish and clean appearance
Ensures comfort with soft material and padding
The fabric is very durable
Effortless to clean and scratch-proof
Provides a great fit
Will take time to install
The seams are not durable
The black and blue color scheme of Aierxuan seat covers is sleek and modern, which will elevate your vehicle's interior. The material of the seat covers is high-quality and durable and should withstand regular wear and tear.
The covers are also easy to install, with no special tools required, which is a definite plus for those who aren't particularly handy.
These seat covers may not fit perfectly on all Ford F150 models. Also, the covers may not be as breathable as some drivers prefer.
---
5. Durafit Camouflage Seat Covers – Best for Pets and Outdoors
What I Like and Dislike
Changes the appearance of a vehicle in a good way
Waterproof fabric provides top-notch protection
Comfortable for both humans and pets
Ensures protection with airbags
Effortless installation
Headrest covers may not fit
Center covers are not up to the mark
The camouflage design of the Durafit seat covers adds a rugged and outdoorsy look to your vehicle's interior, which many drivers appreciate.
They are made from durable materials that are designed to withstand heavy use, which is essential for many truck owners.
And for those who use their truck for hunting or other outdoor activities, the camouflage design can help hide any dirt or stains that inevitably accumulate over time.
Some users have reported difficulties with installation, particularly Ford F150 with power seats.
---
6. Tecoom Seat Covers – Best for Low-Budget
What I Like and Dislike
Provides the right fit
Protects from pet hair, dust, and UV rays
Ensures longevity and resistance to water
Effortless to clean
Hassle-free to install
Wrinkles easily
The backseat covers are not up to the mark
The covers are made from high-quality materials that are both durable and comfortable. Tecoom seat covers are water-resistant, which is a huge plus for those who live in areas with frequent rain or snow.
Additionally, the covers are easy to install, which is handy for those with limited experience or tools.
While the covers do an excellent job of protecting the seats, they do not fit as tightly and may shift around with more frequent use.
---
7. Oasis Auto Seat Covers – Best for $200 Budget
What I Like and Dislike
Provides great value for money
Ensures top-notch coziness
The PU leather material is very durable
Simple installation process
Custom design for the best fit
Hard to lay flat on the seats
No double-stitch holes provided
These covers come in a range of colors and designs to suit a variety of preferences, which is a big plus for those looking to customize their truck's interior.
Additionally, the covers are made from durable materials designed to protect the seats from spills and scratches.
They are also relatively easy to install, making them a good choice for those who want to save money by doing the work themselves.
The covers may not fit perfectly on all Ford F150 seats, so it's important to check the product specifications carefully before purchasing.
---
8. LuckyMan Club Black & Blue Seat Covers – Best for Crew Cab
What I Like and Dislike
Diverse size options provided for the best fit
The material and padding make it ultra-comfortable
Prohibits wrinkling and does not slide during movement
Protects from water, dust, and pet hair
Effortless to clean as well as install
Stitching is not up to the mark
Fabric could be better
The LuckyMan Club Black & Blue seat covers are made from durable materials designed to protect the seats from spills and stains, so they are an excellent choice for families with kids or pets.
Installation of these seat covers is hassle-free and does not require any special tools. The covers are designed to fit snugly and provide excellent support, which is a big plus for those who spend long periods in their truck.
However, the material may not be as breathable, which could be problematic in warmer climates.
---
How to Choose the Best Seat Covers for F150?
In your quest to find the best seat covers for your Ford truck, you should not miss out on any important details.
To make the task of finding a suitable one even easier for you, I have listed all the factors that you should keep in mind.
1. Make Sure They're Custom Fit
Surely, custom seat covers will fit, but will they snug fit? It is very important to find the perfect fit for your seats.
Otherwise, you might notice some wrinkling, or the covers might slide too with your movement – and you wouldn't want that.
2. The Design and Style Should Look Good
You would want the interior of your vehicle to look good. Now, a major part of the interior is determined by the seat covers themselves.
Therefore, you should pay attention to the color, style, and design of your chosen covers. A classy outlook is important, and you should definitely keep that in mind.
3. They Should Be Comfortable
Do you want your rides to be uncomfortable and tiresome? If not, then comfort should be one of your biggest priorities.
For that, you really need to pay attention to the material along with the thickness of it and the padding included.
4. Look for High-Quality Material
The material itself determines a lot of aspects of the covers. For instance, the material can give you insights regarding durability, comfort, and ease of cleanliness.
So, you should choose the material according to your priorities. Different ones offer distinct features and services – making them unique in their own ways.
5. Consider the Ease of Wash
Even if cleaning the covers is as easy as wiping a wet towel on it, you should make sure the product is still washable.
You might want to wash them once every month or every 2-3 months. For that, they will have to be machine washable – or else, it will be difficult to keep them all-new.
6. They Should Be Waterproof
To reduce any sort of damage and to make sure they keep on looking brand new, the covers need to be waterproof.
Spills and splashes are quite evident when you are out on a ride – and it can be difficult to be careful at all times. Hence, it is just better to go for waterproof covers.
7. Consider the Durability
If you don't plan on changing your seat covers every year, then it is essential to get long-lasting ones.
The material surely plays a big role here but do pay attention to the seams, stitches as well as the warranty provided.
8. Consider the Airbag Compatibility
To maintain and ensure your safety, airbags are an integral part of any vehicle. Therefore, you need to make sure that your chosen seat covers are compatible with them.
You can easily find the information in the specifications provided with the covers. 
9. Consider Heated and Cooled Seat Compatibility
Yes, there are differences between a heated seat and a cooled seat. Different materials and different designs are compatible with these.
For instance, for a heated seat, you would want to go for covers that are fire-resistant – which isn't necessarily needed for cooled seats. So, you should keep this aspect in mind when purchasing.
10. Installation Should Be Easy
Now, you wouldn't want to fret too much or invest too much of your time when installing your seat covers. Hence, the process should be swift and effortless.
So, you should make sure that your chosen product comes with a proper guide and a convenient design for installation. 
11. They Should Justify the Price
Some seat covers are rather expensive but are totally worth the money; on the other hand, some can be reasonably priced and yet not live up to your expectations.
Hence, it is important to make sure that they provide good value for money – so you can ensure none of your investment is wasted.
---
Frequently Asked Questions
What Are Custom Seat Covers?
Custom seat covers are seat covers that are made according to the make and model of the vehicles compatible with them.
That means the covers will perfectly fit the seats of the vehicle that it is compatible with – but the price point will be higher than its universal and other counterparts.
Are Custom Seat Covers Worth It?
Yes, custom seat covers are definitely worth it. With these, you will be getting a 100% fitment guarantee, and they will also provide other amazing features such as durability, comfort, etc.
Are Custom Seat Covers Safe?
Custom car seat covers are usually safe and do not cause its users any safety concerns. However, you should still make sure that your chosen ones have been tried and tested – and are also known to be safe.
How Much Do Custom Seat Covers for Ford F150 Cost?
Custom seat covers for F150 are rather expensive, so you should expect them to be about $200-$1000 for a single row. The price can be higher if you are getting high-end branded ones.
Custom Vs. Universal Seat Covers – What's the Difference?
The former matches the make and model of vehicles – and so, they ensure proper fitting.
However, they are rather expensive, as they are made using high-quality materials. The latter is more like a one-size-fits-all and is comparatively cheaper. 
Ae Seat Covers Washable?
Whether seat covers are washable or not depends on the material and design of the covers. You will find some to be washable, whereas others are not even waterproof.
So, before making a purchase, you should go through the specifications and check if those are waterproof or water-resistant.
How long do seat covers last?
The lifespan of the seat covers totally depends on their material and design. Some materials can withstand a lot of abuse and last for about 2-5 years.
At the same time, some materials can start wearing out after one year of use. You can also check the warranty of the product to get a better idea.
Are Leather Seat Covers Worth It?
Leather is a material that comes with several benefits. So, when it is used to make seat covers, the advantages of the material get fused with that of the covers themselves.
As a result, you will end up getting soft, stylish, and long-lasting covers. 
Should I Put Seat Covers on Heated Seats?
It is not recommended to put seat covers on heated seats. However, you can check if your covers are fire-resistant.
If they are, then you can install them on heated seats without any concerns; if not, then it is strongly recommended otherwise.
---
Before You Go …
All of the seat covers listed in this article are top-notch. However, Covercraft Carhartt SeatSaver really wins the deal with the aspects that it offers – making these the best seat covers for F150.
This product comes with all the features that you would be looking for in a seat cover. Not to mention, it knows how to prioritize your comfort above anything else while providing long-term service.