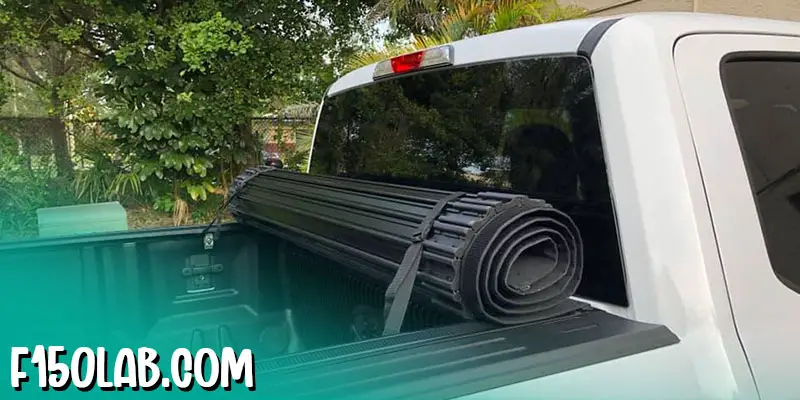 A roll-up tonneau cover is a great option to protect your truck from the weather all year round.
But finding the best one is tricky. So to help you out, I have shared my top list of the best roll up tonneau covers for F150 trucks.
So without further ado, let's see the top ones.
---
6 Best Roll-Up Tonneau Covers for F150 – [Top Picks]
Here are my findings on the top roll-up tonneau covers on the market.
1. Best Overall – BAK Revolver X2
What I Like and Dislike
Has straps that can hold
Offers easy installation
Does not block rear view when rolled up
Has a low-profile appearance
Side-rail and cab are sealed with integrated mechanism for latching that also covers the tailgate of the truck
It might freeze solid during cold weather conditions
It does not offer the feature of folding
BAK-Industries remains a trusted name when it comes to tonneau covers. And, this Revolver X2 is no different.
The X2 model comes occupied with a hidden cable that helps to unroll the tonneau cover and has integrated buckles that allow full access to the truck bed.
Moreover, I loved how using this tonneau cover will also reduce the required amount of gas as the cover is designed to improve aerodynamics and increase the overall speed of the truck.
The model comes equipped with patented rails that lock rotationally and secure the entire truck bed.
As for the material of the truck bed, it is a gloss vinyl that is used on top of aluminum slats for a sleek and composed look.
Due to its advanced technology, this tonneau can easily be crowned as the best roll-up bed cover for Ford F150.
---
2. Best Overall (Alternative) – TruXedo Sentry
What I Like and Dislike
Easy to clean.
Does not require any tools or drilling.
Comes with a bulkhead seal and can be removed in seconds.
Looks Xtra-low profile.
Has pocket access in case of additional customization.
Material can not be left rolled up for too long as it is prone to tensing up.
Might make squeaking noises after only months of usage.
Another hard roll-up tonneau cover from a trusted brand that offers additional security with a desirable low-profile look that I really enjoyed.
The heavy-duty aluminum slats and industrial-strength material offer your tonneau cover the protection it needs to hold up against the weather.
As for security, it is equipped with an additional security latch that will allow you protection from theft.
In addition, the durable slats will protect your cargo from falling off the truck bed, while the vinyl material will protect it from debris and rain.
By simply clamping down the aluminum slats onto the rails and attaching it to the cab and the tailgate, you can install the entire cover in less than 30 minutes.
The installation does not require drilling holes or using special tools to secure the tonneau cover.
---
3. Best Value – BAK Revolver X4
What I Like and Dislike
Dual felt strips protect the underside from extreme temperature.
Has a low profile look.
Offers great value for cost.
The rolling tonneau cover is operational even while using one handedly.
Rolled-up position does not lock rear-view window.
Might require purchasing extra shims to install.
Poor customer support.
It's a sleek, matte-finish cover that gives your truck bed the sophistication and low-key appearance you want. Also, I was in awe of the tremendous value it offers for money!
The model allows you to roll up the cover and easily access the entire truck bed using only one hand.
You do not need to lift the cover, as it can easily be opened from both sides of the rails using the automated slam latch.
As for the heavy-duty aluminum panels and slats, those will protect your gears on the back of the truck bed. The matte textured finish vinyl gives you the benefit of rolling up the cover.
In addition to that, you'll also get the protection of a hard fold cover due to the slats.
The rotational rails that can be locked to secure the truck bed from the cab to the tailgate secure cargo from debris or potential damage.
At the same time, the integrated buckle system and dual felt strip will always protect you from the extreme temperature of the aluminum underbelly.
The convenience and practicality of this model make it one of the best rolling covers for Ford F150.
---
4. Best for Easy Bed Access – TruXedo Lo Pro
What I Like and Dislike
Can be opened without lowering the tailgate.
Does not buffer in the wind while driving.
It can withstand going through carwashes.
Takes about 40 minutes to install.
Poor customer service.
Cover might get wrinkled and rippled only after a couple of months of usage.
Here, we have a cover with a signature low profile design and durability. This leather grained vinyl tonneau cover will support your truck bed in heavy rains and hailstorms.
The simple, hassle-free functionality of the cover is what makes it simple. The signature low profile sits only 3/4" above the top of the truck bed. 
You can easily access the entire bed while the cover is rolled down and open the tailgate without removing or rolling up the cover.
Made to withstand extreme weather conditions, this cover has the capacity to hold inches of snow.
The automated tension control allows the soft cover to stretch snugly over the truck bed.
Anodized one trigger latch that can be easily used to detach the cover from the tailgate. The entire industrial strength leather cover can also be detached in seconds to provide you full access to the bed.
The premium material used to manufacture the cover will always protect your cargo with maximum support from harsh weather conditions.
---
5. Best Under $400 – Lund Genesis Elite
What I Like and Dislike
Cover promises to be virtually maintenance free.
Offers strong seal through hook and loop technology.
Can help to reduce MPG-draining dragging on tailgate.
Requires no drilling for installation.
Pre-assembled with mounting gears.
Might have some unstitched thread ends.
Does not come with clear installation guide.
A promise of zero virtual maintenance is what makes this tonneau cover a gift to both yourself and your truck.
The premium quality matte canvas cover does not require any special cleaners to clean this cover spotless.
The custom-fitted cover has internal tension controlling system to sit snugly on the rails and remove any noise or vibration. 
I was a fan of how the cover can be rolled in mere seconds and allows you complete access to the truck bed.
Similarly, the mounting gears are so easy to install that even a beginner can follow the steps without using special tools.
Heavy-duty vinyl will protect the cargo and last up to years, while the mounting gears made of aluminum will hold up the premium canvass.
The hook and loop seal of this cover will protect your cargo from the strongest winds.
A US-based support team also backs up this roll-up cover to help you with any problems or inquiries.
---
6. Best Under $300 – TruXedo Truxport
What I Like and Dislike
Uses high quality leather-embossed vinyl.
Supporting bows allow the cover to handle a couple of inches of snow.
Designed for maximum functionality and user-friendliness.
Easy to clean and maintain.
Tension can be pre-set using tension control system.
Quite expensive.
Installation might require heavy usage of foam strips at all corners.
Known for its watertight feature at a reasonable price, this model is one that has been built to stand guard against heavy snow loads.
Dual paddle latches at both sides of the tailgate make it easier to detach and use while accessing the full truck bed.
It is built for easy installation, no drilling holes or using special tools are needed to install the cover.
Built-in crossbars are what allows this cover to protect cargo from heavy rain or snow load during extreme weather conditions. The durability of this cover is what stood out the most to me.
The sleek and low-profile look helps the cover to fit the truck bed perfectly and prevent noises or vibrations from the cover parachuting or flapping in high wind.
The cover can be manually and automatically adjusted to control tension and seal the truck bed.
---
Best Roll Up Tonneau Cover for F150 – Buying Guide!
Here are the factors that will help you pick out the best roll up tonneau cover for your truck.
1. Fitment
When picking a tonneau cover for your truck bed, ensure that you get the measurements correct so the cover fits snugly.
To do that, you will have to measure the truck bed from the bulkhead of the truck to the inside of the tailgate. 
Most sellers offer measurement charts depending on the truck's make and model, so looking at the chart might help you narrow down your options.  
2. Durability
If you commune using gravel roads more often, picking a hard roll-up cover might be a better choice as soft roll-up tonneau covers are not built for resisting heavy debris.
This way, you can ensure that your cover lasts for a long time and fits your needs.
However, many soft roll-ups work brilliantly under extreme weather conditions.
So, a soft roll-up might help you out more during snowfalls or rain if you live in extreme or unpredictable weather conditions.
3. Security
The requirement for added security depends on the cargo you carry around more often.
For example, if you store valuable goods that lean on the heavier sides as cargo, opting for a hard roll-up will give you the added security measure from theft.
However, no cover can be guaranteed to be absolutely theft proof, so it is better to remain cautious while carrying a valuable good.
4. Design and Style
While soft roll-ups offer a lightweight option, hard folding covers offer a more heavy-duty solution for a tonneau cover.
Before purchasing a heavy-duty cover, make sure that it does not heavily weigh down your truck. 
Opt for a soft roll-up if your truck is on the lighter side and is only used to carry lightweight items.
Using any option that looks low profile and is designed for convenience should look amazing as a tonneau cover.
If you want a sophisticated look, opt for a leather-grained material cover. 
5. Bed Space
Look out for tonneau covers that offer full access to the truck bed while the cover is rolled up.
As covers that do not have full access tend to be highly inconvenient, always check the accessibility beforehand so you can make the most out of your truck bed.
6. Ease of Installation
Make sure to choose an option with easier installation if you are buying a tonneau cover for the first time.
However, hard roll-up tonneau covers are usually a bit more complicated when it comes to installation. 
On the other hand, soft roll-ups can be easily installed in minutes due to the usage of clasps and Velcro straps. 
7. Ease of Maintenance
Tonneau roll-up covers are considered a solid investment to protect your truck bed and improve performance by increasing aerodynamics.
So, make sure you invest in one that is easy to clean and maintain.
This way, you will not have to purchase expensive chemicals to clean your tonneau cover constantly.
8. Price
Lastly, if you are looking for a budget-friendly option that will protect your truck and help you keep lightweight cargo secured, soft roll-up tonneau covers are a better choice.
A hard roll-up might be a better investment in the long run if you have the budget.
Though the choice of tonneau covers may vary, using these common factors to select the one most suited for you is a guaranteed way of investing in a great cover.
---
Before You Go …
In my opinion, BAK Revolver X2 is the best roll up tonneau cover for F150.
However, many aspects, including price, shipment and availability, might factor into which roll-up tonneau cover fits you the best.