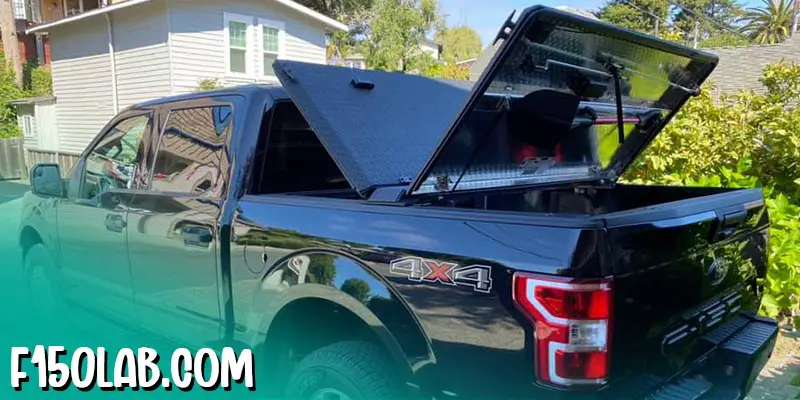 One of the best ways to protect your Ford F150 is with a tonneau cover. It will keep your truck bed and cargo safe from the elements and thieves.
But with so many options available on the market, it's hard to choose the right one for your truck.
To make it easy for you, I have shared my top picks for the best tonneau covers for F150 trucks.
---
9 Best Bed Covers for F150 – [Top Picks of 2023]
With countless options in the market, finding the best tonneau cover can be quite a stressful task.
So for you convenience, here are the best F150 tonneau covers on the market.
1. Best Overall – BAK BAKFlip MX4
What I Like and Dislike
Hassle-free and quick installation.
Segments can be folded one by one, so you don't have to keep the cover folded.
You can access the bed very quickly.
Great weather protection and scratch-resistant.
Excellent value for money.
Compatible with the new powered tailgate (2021+).
Made in the USA.
The design is not really low profile.
In terms of design, the MX4 bed cover is quite simple with its tri-fold design. This means there are three big segments made of aluminum which you have to fold towards the cab of the truck.
For extra sturdiness and protection, the aluminum used for the MX4 is heavy-duty. The folding mechanism of this cover is quick and easy.
It almost folds completely inward, which means you will not have to face the hassle of taking off the cover if you're carrying something very large in the back of your truck.
Additionally, you can customize the positioning of the segments by even keeping only one or two segments folded.
A big let-down of this item is its security. Even if you have the tailgate closed up, the latch can be accessed. High-quality prop rods are used for the tailgate to be kept up.
Lastly, you will not have to fret much about the sun damaging the exterior because the matte finish does a good job at protecting the cover from it.
Installation is a very easy and quick process; you can do the entire setup comfortably within 15 minutes. The clamps that support the two rails can be positioned in any way so you can adjust them to your needs.
Since the MX4 is relatively heavy, I would suggest you get another person to help you install it.
---
2. Best Overall (Alternative) – Gator EFX Bed Cover
What I Like and Dislike
Impressive low-profile design.
Heavy-duty aluminum built for security.
Black powder coating protects the cover effectively from UV rays.
Installation is simple and quick.
Panels can be partially folded, and the opening is quick.
Works with the updated powered tailgate.
Latching and unlatching is troublesome.
It is a bit expensive.
People looking for hard tonneau covers are going to be certainly impressed by the Gator EFX cover.
The design is simple and is just as its name says, it consists of 3 panels that are made of durable, heavy-duty aluminum.  
The black-powder coat finish is UV protective, and the scratch-resistant coating ensures you can go on your adventures without worrying about an ugly scratch.
Your truck will look very sleek because the exterior also has a decent aesthetic with the protection it provided.
You will not have to fuss much about installation since the process is easy, and to make it easier, the Gator EFX hard tri-fold is also relatively lighter than other hardcovers.
It will take you less than half an hour to complete the installation, which is actually not too bad. 
The cover can be adjusted, and you may keep it completely closed, open, or even partially open. A great thing about this item is that it has a low-profile design. 
Also, there are rubber seals around the cover to ensure water or snow doesn't get into the back when the cover is closed.
One thing that you will not like about this product is that the latching and the unlatching process is very troublesome.
---
3. Best Retractable – RetraxPRO MX
What I Like and Dislike
Matte black finish looks very classy.
Low-profile design improves the aerodynamics of the truck.
Heavy-duty aluminum endures heavy weights up to 500 pounds.
Convenience is added as you can keep the cover open with a locking feature.
Sealed ball-bearing rollers let the bed be accessed quickly.
Quite heavy, which can be an issue during installation.
I must say that the heavy-duty aluminum panels of this cover are very durable and can support a weight of almost 500 pounds. Therefore, you can easily put big cargos on it without any worry.
Its matte black finish and low-profile design make it a perfect fit for any truck in terms of looks.
A locking feature allows this retractive cover to be secured at any position along the bed, which makes it very practical and convenient.
The latch and lock are made of sturdy material and will not be easily broken. Hence, it is an ideal choice to avoid theft.
The retractive rolling of the cover is made quick, and smooth thanks to the sealed ball-bearing rollers mounted with the aluminum beams.
Installation is also very easy and can be done within half an hour, but you should keep in mind that this retractive cover is certainly heavy.
---
4. Best Retractable (Alternative) – Gator Recoil
What I Like and Dislike
The textured finish of the cover makes it effective against harsh weather.
3 different locking positions are available for convenience.
Quick-release handle featured to get 100% bed access within seconds.
Low-profile design and matte black finish makes for an exquisite look.
Installation is hassle-free and can be done in under 30 minutes.
The aluminum is not very durable.
There may be small breaches during heavy rain.
The textured heavy-duty aluminum slats are very well-designed, so they can face harsh weather without any issues.
Also, because of that the bed is saved from getting scratches and corrosion. This material is lightweight and is not too weak.
However, the aluminum slats are not very durable and may break if tremendous force is exerted on them.
Operating it is no hassle. In fact, there is a quick-release handle that will give you full access to the bed in a matter of seconds.
For convenience, this retractive tonneau cover has three adjustable locks. Because of this, you can create custom locking points so you will have a range of hauling needs.
Lastly, the installation requires no tools and can be done in even less than 30 minutes.
---
5. Best Soft Roll-Up – TruXedo Lo Pro
What I Like and Dislike
Tear-resistant vinyl will give you a lot of longevity.
Aircraft-grade aluminum makes for a tremendous foundation.
Very lightweight, meaning accessing the truck bed is very easy.
Drill-free assembly, so you won't have to spend hours installing it.
Adjustable tension system works great for different conditions.
Low-profile design increases fuel economy.
Occasional breaches during extreme rainfall.
Clamps could be more durable.
In terms of materials, I would say that the TruXedo Lo Pro doesn't really compromise. Its heavy-duty vinyl can easily stand harsh weather such as hail and snow, and you will be able to use the cover for years without it tearing.
The foundation made of aircraft-grade aluminum is also pretty solid, but the rails and clamps are not all that durable.
All these materials are very lightweight, which makes accessing the bed a quick and easy step.
Design-wise this tonneau cover does well. As you may be able to tell from the "Lo Pro" in its name, it has a low-profile design which means the cover sinks into the truck bed and sits merely 3/4″ above the truck bed.
This low-profile design, along with the matte black leather grain finish, will make your truck look sleek and will improve the aerodynamics of your vehicle. 
Assembly is not too difficult, and you can be done with it in under 30 minutes. There's a tension system that allows you to adjust the tension in the cover according to the weather.
You must keep in mind that there are some occasional breaches in the cover, but only in very extreme weather.
---
6. Best for Basic Security – TonnoPro TonnoFold
What I Like and Dislike
Low-profile design saves gas.
Quick and easy access to the truck.
Lightweight, so installation is very easy.
Space available to mount other accessories.
A tad bit expensive.
Cover cannot be partially kept open.
Rolling soft tonneau covers are amazing because they roll up completely very quickly. Operating this cover is really a piece of cake; it just rolls open and closes easily, giving you access to your truck bed. 
In fact, you will get 100% bed access in this soft cover.
You will not be getting high protection from thieves with this cover since it is a soft cover, but the double-sided 24 oz vinyl paired with marine-grade stitching is well enough for basic protection.
The low-profile design of the Tonno Pro soft-folding cover means that it looks very sleek and doesn't look like an obstruction to the truck's design. 
Since the soft cover comes pre-assembled in some cases, installation can be a short process of merely 10 minutes.
The light weight also acts as a plus point during installation because you can install this thing on your own with ease. 
The Lo-roll mounts to the inner bed rails, which means you can mount various other accessories to your truck according to your convenience. 
You won't have to worry about this cover getting damaged by harsh weather because the double-sided vinyl does the job of protecting it well.
---
7. Best for Medium-Security – BAK Revolver X2
What I Like and Dislike
Patented locking rails add a lot of security.
Glossy leather grain finish looks sleek.
Leather vinyl can resist extreme weather well.
Durable aluminum body keeps the cover very sturdy.
Low-profile design ensures better fuel economy.
Easy and secure roll-up, with locks and release cable.
Quite heavy, so installing it alone can get very challenging.
The beautiful glossy leather grain finish that the BAK Revolver X2 sports is weather-resistant, while the aluminum that runs through the cover ensures that it is very sturdy.
You might have heard that Velcro or stitching is necessary for added security.
But that is simply untrue because the X2 doesn't have it, which results in a very smooth aesthetic while the patented locking rails take care of the security.
When it comes to hard roll-up covers, I must say that this is one of the most secure ones. It does both: it gives you 100% access to your truck bed and provides great protection. 
You can just slam the cover with the tailgate, and the lock is very secure and will certainly not break in the middle of your drive. 
The operation of this item is also very simple, you just have to bring down your tailgate, just pull the release cable, and then all you have to do is push the cover. 
Also, the locking lever mechanism is very stable, and it is all made of heavy-duty aluminum.
These 3/4″ patented locking rails are something you will not find in your average roll-up tonneau cover, and it increases security very well.
In terms of installation, it is mostly easy and quick, but you will certainly need a helping hand while installing the BAK Revolver X2 because it is 81 pounds!
---
8. Best for Medium Security – TruXedo Sentry
What I Like and Dislike
Durable industrial strength vinyl holds well against harsh weather.
The extra-low profile design elevates the appearance of the truck.
Strong heavy-duty aluminum makes the structure very sturdy.
Additional security latch for protection against theft.
Quite simply mounts to the inside of the truck bed.
It does not give you 100% bed space.
Cover cannot be kept partially open.
This cover is another phenomenal option amongst hard roll-up options. 
Now, the main support and strength of this come from the robust aluminum slats that hold that industrial-strength fabric.
Sun damage and heavy rain ruining your cover will be the least of your worries with the use of this cover as it is weather-resistant.
The industrial strength vinyl is bonded by pressure to the strong heavy-duty aluminum slats for durability.
No drilling is required for installation, and the process is a simple DIY job, so you can put the TruXedo Sentry cover with your truck in less than 30 minutes.
You all might be a bit disappointed to hear that this roll-up cover doesn't give 100% bed access when rolled up.
However, in efforts to make up for that, the company has added a quick-release system that allows the cover to come off in a matter of seconds.
---
9. Best for Hinged Operation – Undercover SE One-Piece
What I Like and Dislike
Single-point locking system is very secure.
The aerodynamic style lines add a modern touch to the appearance of the truck.
Robust cover due to the X-effect infrastructure.
UV-protected and scratch-resistant AB composite material keeps the cover intact.
Installation is made easy because of the lightweight of the cover.
Only one locking position.
Not a low-profile design.
This tonneau cover is unlike any of the others in this list since it is a one-piece hinged cover. The twisting single-point locking mechanism is very reliable, and both locking hinges are controlled by it.
Although the Undercover SE misses out on a low-profile design, there are aerodynamic style lines that make up for it in terms of fuel economy.
Additionally, it also adds a nice and modern touch to the aesthetic of the truck.
For indicating whether the cover is locked or not, there is a LED lighting system in the cover. Since the product is light, coming in at only 58 pounds, installation is made very simple.
The UV-protected scratch-resistant AB composite material is effective in protecting the truck bed from poor weather, and you won't even have to worry about scratches. 
Durability is also one of its strong points, thanks to the X-effect infrastructure.
---
Best Tonneau Covers for F150 – Buying Guide!
Here are the crucial factors to remember while choosing a tonneau cover for your truck.
1. Compatibility
You need to ensure that the bed size matches the cover you are planning to buy. All trucks have their own kind of linear bed type. This includes a four-door design, cab style, and side-step.
So, keep in mind that the cover is compatible with your truck bed. 
Also, don't get anything for which you would have to drill on the truck's bed. The setup should be easy.
2. Durability
Covers comprise many kinds of materials such as aluminum, vinyl, canvas, ABS polymer, and fiberglass. Hard covers are made of aluminum, and soft ones are composed of vinyl.
Aluminum, fiberglass, and ABS polymer would last you a long time, but they cost a bit more.
Vinyl and canvas are lightweight and would not last as long.
3. Security
The primary purpose of a tonneau cover is to provide safety to your cargo. Let it be safe from intruders or the weather, this will have your back. 
Now, I suggest you get covers made of high-quality material. That way, it would be more difficult for the thieves to tear it up and steal your stuff.
4. Design and Aesthetics
Many covers are available on the market that can make your truck bed look more attractive and stylish.
You have to look for them, and you will find that many come with stylish designs and patterns. Make your choice.
5. Waterproof
You should definitely get a product that is waterproof and weatherproof. It would be tragic if the things that you are hauling get soaked with water and become damaged.
Be sure to check whether the item you have chosen is waterproof.
6. Flapping Sound
If you have fitted your cover in your vehicle correctly, there shouldn't be any noise or flapping sound coming from it.
This is why it is essential to match its dimensions with your truck's bed.
7. Ease of Operation
You would want to get something that can be easily installed and mounted on. Usually, lighter covers are easier to install than heavier ones.
So, if you want the installation process to be easy, go for the lighter ones.
8. Ease of Maintenance
Some covers can be maintained easily by simply using water to clean them up. You will also find ones that need special attention and items that you have to buy separately to maintain them.
10. Price
Different covers are priced differently. A lot of it depends on the brand, quality, features, and the material of the cover.
If you get a cover from a good brand and made of hard materials, it would most likely cost you more.
This doesn't mean that you won't find a good cover at an affordable price. There are plenty of options available at a lower cost as well.
---
Before You Go …
In my opinion, the BAK BAKFlip MX4 is the best tonneau cover for F150. I highly recommend this bed cover since it provides adequate protection, is durable, and also very easy to install.
So there you have it. I hope you liked this in-depth tonneau cover guide and decided accordingly.